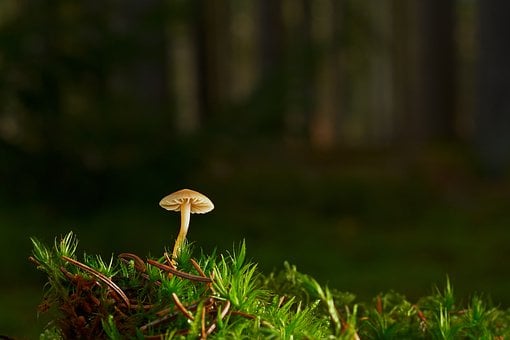 Thinking about cooking lion's mane mushroom? You probably know about a few advantages of lion's mane for health and are keen to try out different delightful methods to have them in your meals. You might want to expand beyond the usual portobello and button kinds of mushrooms and have a go at making a distinctive gourmet mushroom. No matter why you are here, this is where you can discover how to best use this flavorful, versatile mushroom when cooking.
In addition to a few simple dishes, this article will explain where to buy lion's mane and steps on how to clean, keep and prepare it. We will take a short look at some of the amazing ways this mushroom can benefit your wellbeing. Find out how to get started with cooking lion's mane mushroom here.
What is Lion's Mane?
The fungi known as Hericium Erinaceus, otherwise known as Lion's Mane, can be spotted all over the U.S. and Canada in the northern regions. They're often found growing on dead and decaying trees, as well as birch, beech, elm, and oak trees.
The lion's mane mushroom receives its title from the fact that its look is like a wild animal's mane, with a fluffy and shaggy style. These mushrooms are sizeable and snow-white, with filaments, which are like tiny teeth, all around the sides of the fungi. It has gained the moniker "the bearded hedgehog mushroom" and the "pom-pom mushroom" due to its fuzzy features.
This distinctive fungus is employed globally for its culinary applications and for its beneficial effects on one's wellbeing. This mushroom can be used in a variety of ways, including eaten uncooked, grilled, dehydrated, or brewed in a tea. Extracts from the lion's mane mushroom are commonly added to supplements for promoting health and well-being.
What Does Lion's Mane Mushroom Taste Like?
If you've never experienced the flavor of lion's mane mushrooms, you are in for a delightful surprise. When it's cooked it's juicy, delicate, tender, and meaty. The taste of lion's mane mushrooms is best described as seafood-like and it's often compared to crab, lobster, and other shellfish. This is why it is often used as an alternative to fish in meals for vegetarians.
Where Can You Buy Lion's Mane Mushrooms?
It is possible to buy lion's mane mushrooms in their fresh, dried, or powdered form. Each format is useful for different culinary purposes.
For example, lion's mushrooms in their raw, uncooked form, as well as their dried form, may be preferable for dishes like frying and grilling. On the other hand, their powdered form may be more suited for recipes like soups, baked items, and mixed drinks.
Mushrooms have a tendency to take in liquid easily, making them ideal for soaking up flavors from marinades and sauces. Unfortunately, this also means that they're capable of soaking up potentially hazardous amounts of pesticides. It is beneficial to buy organic lion's mane mushrooms.
If you're in search of either fresh or dried lion's mane mushrooms, check out your local health-food store or farmer's market first. You can find them at some Asian markets, however, you should ensure they have been produced organically.
If you're not having much luck finding them locally, you can attempt to purchase them over the internet or cultivate them yourself. A speedy exploration of the internet using Google will help you locate recent and dried lion's mane mushroom, as well as kits to cultivate them.
Mushroom powder of an organic nature can be obtained from certain health stores as well as on the internet with great ease. However, if you are buying mushroom powders to support your health, it's important to make sure you are buying the highest quality product. Look at our four-point list of criteria for finding quality Lion's Mane powder extract to get an idea of what to look for when shopping for mushroom extracts.
How to Store & Clean Lion's Mane Mushrooms
Storing Lion's Mane Mushrooms
When cooking lion's mane mushroom, fresh is best. But, you don't want any extras to go bad before you can enjoy them. If you're not planning on eating them right away, you'll need to store them properly.
It is alright to put your fresh lion's mane mushrooms in the fridge if you are going to consume them in the near future. Put the items in a large paper sack to allow them to have air circulation. Avoid exposing them to water and any other liquids to avert the growth of mold.
As they get older, lion's mane mushrooms will become increasingly yellow. You can cut off any yellow parts to preserve their flavor. If the fruits are orange in color, mushy to the touch, or have signs of decay, they should be thrown away.
Storing it correctly, lion's mane can remain fresh in the refrigerator for around seven days. Consider different ways of storing the items if you aren't expecting to use them right away.
One option is to dry them, but first, you'll need to clean excess dirt off them. You can clean mushrooms by either rinsing them with water or by using a specialized brush to get rid of any dirt or debris. If you rinse them with water, allow them to be in direct sunlight for a couple of hours to let any extra water dissipate.
Cleaning & Preserving Lion's Mane Mushrooms
Once your mushrooms have been wiped clean, they can be dried out either in a standard oven or with the help of a food dehydrator. Using a shape knife, cut the lion's mane from top to bottom about a quarter of an inch thick. Then place them on dehydrator trays or parchment-lined baking trays in a single layer so the slices don't touch each other.
Set your dehydrator to 135 degrees and dehydrate for four to six hours. You can dehydrate the mushrooms at a lower temperature for a longer period of time if you want your pieces to be less firm and more delicate. If you're baking in an oven, set it to the mildest setting and let the lion's mane sit to dry for a period between two to four hours.
If the mushrooms are soft enough to break apart just by squeezing them, then they are done. Allow them to cool down and then put them into jars designed for canning or bags for storage. You'll want to make sure the containers you store them in are air-tight to reduce the risk of them going bad. With proper storage, dried lion's mane mushrooms can last indefinitely.
Another option is to freeze your lion's mane mushrooms. Because of their high water content, it's best to sauté them before freezing. Cook them as you normally would, or use our sauteed lion's mane recipe below, and then let them cool. When ready, put them in an airtight freezer bag or a vacuum-sealed bag to prevent freezer burn, and store them in your freezer for up to a year.
Theoretical Health Benefits of Lion's Mane Mushroom, According to Lab Research
1. Improve Brain Function
Lion's mane mushrooms contain hericenones and erinacines, two compounds that can stimulate the growth of brain cells in lab studies, per past research. In theory, this may have beneficial effects on people with brain conditions.
In the past, researchers studied the implications of taking a lion's mane supplement on the mental capabilities of adults aged 45 and older who were identified with slight cognitive impairment. Mayo Clinic describes MCI as the stage between the normal cognitive decline that comes with aging and the more severe decline of dementia. The study found that adults who took four 250 milligram (mg) tablets of lion's mane three times a day for 16 weeks showed a significant boost in cognitive function compared with those who didn't. However, these benefits didn't continue once people stopped supplementation.
A recent report published in June 2020 on Frontiers in Aging Neuroscience discovered that consuming three 350 mg capsules of lion's mane on an everyday basis over a 49-week time frame may have had a positive effect on the mental wellbeing of individuals suffering from mild Alzheimer's disease.
Still, additional research is needed.
2. Support Digestive Health
Properties of lion's mane have been shown to support the digestive tract. In particular, lion's mane may help prevent ulcers by stopping the growth of Helicobacter pylori, a bacteria that can have negative effects on gut lining, Richard says.
The authors of a study published in 2019 in the International Journal of Medicinal Mushrooms gave lion's mane extract to a group of mice with H. pylori. Those that were treated with lion's mane had lower levels of H. pylori in their stomachs than mice that didn't receive the extract.
A test-tube study published in the Journal of Ethnopharmacology also revealed that lion's mane inhibited the growth of H. pylori.
While these results may appear promising, human research is needed to substantiate this benefit.
Lion's mane may also protect the intestines from inflammation and inflammatory bowel diseases like ulcerative colitis and Crohn's disease, Richard says.
The results of a research paper issued in March 2016, which was featured in the PLoS One journal, indicated that a group of individuals with ulcerative colitis, who consumed a dietary supplement which contained 14% lion's mane extract, exhibited gains in their symptoms and wellbeing after three weeks.
In the research from July 2016 provided in PLoS One, Crohn's patients got improved effects from the treatment as well as from taking the placebo.
3. Relieve Depression and Anxiety
According to Delk, lion's mane decreases inflammation, which may help relieve depression and anxiety.
A study from 2019 which was featured in Evidence-Based Complementary and Alternative Medicine was mentioned by her. The study looked at overweight and obese individuals with mood issues, giving them Lion's Mane supplements for a period of eight weeks. Not only did these patients experience decreased depression and anxiety symptoms, but they also reported improvements in sleep quality. Tests of the blood showed that levels of proBDNF, a molecule involved in mental wellbeing and neurological wellbeing, had gone up.
In a past study, women with nonspecific health complaints and diseases were given four cookies containing 0.5 grams of powdered lion's mane daily for four weeks. Those who ate lion's mane cookies reported feeling more relaxed and less worrisome by the completion of the experiment as opposed to the women who ate placebo cookies.
One limitation to this study is that it included only 30 women. Larger studies are needed to show how these findings might help with anxiety, and to see how lion's mane compares or combines with mainstream therapies for anxiety, like meditation and talk therapy.
4. Boost Immune Health
Research in animals suggests that lion's mane may strengthen the immune system, helping protect against bacteria, viruses, and other harmful substances.
A past study found that daily lion's mane supplements extended the lifespan of mice injected with a hefty dose of salmonella bacteria by nearly 4 times more than mice that didn't receive supplements.
A study published in February 2017 in Food & Function found that lion's mane mushroom boosted activity in the intestinal immune system in mice. The intestinal immune system works to protect the body from harmful substances that make their way to the gut via the mouth or nose.
As the authors of a study published in June 2017 in Frontiers in Immunology explained, these effects may be partly due to beneficial changes in gut bacteria that activate the immune system.
Most of the research regarding the potential benefits of lion's mane has been conducted on animals, but there is anticipation for upcoming studies on humans to see if it has any effect on the immune system.
5. Prevent Cancer
The main substances in the mane of a lion possess several distinctive elements that could be beneficial in the fight against cancer.
According to a study published in August 2020 in the International Journal of Biological Macromolecules, polysaccharide HEFP-2b, a compound in lion's mane, slowed the growth of colon cancer cells in a test tube.
Another test-tube study, published in May 2020 in Food and Function Journal, demonstrated that peptides found in lion's mane may help treat lung cancer. Researchers found that these peptides have the ability to capture free radicals (harmful substances linked with cancer) and trigger the death of cancerous lung cells.
Although it appears that lion's mane has anti-cancer benefits, research has only been conducted on samples in the lab and on animals. Human studies are needed.
6. Manage Diabetes
The mane of a lion could potentially be utilized as a beneficial tool for the supervision of diabetes; it may help to regulate blood sugar levels as well as provide relief from nerve pain.
For example, a test-tube study published in November 2020 in the Journal of Ethnopharmacology found that several compounds in lion's mane prevented alpha-glucosidase activity. This implies that lion's mane may possess properties that work in a similar manner to alpha-glucosidase inhibitors (AGIs), which are drugs used to treat type 2 diabetes. In StatPearls's July 2022 edition, it was reported that AGIs assist with preventing a spike in blood sugar by mitigating the amount of carbohydrates digested in the small intestine.
What's more, a study in Evidence-Based Complementary and Alternative Medicine revealed that feeding diabetic rats 40 mg of lion's mane per kilogram of body weight significantly increased their pain threshold after six week of treatment. This suggests that lion's mane may offer pain relief for diabetic neuropathy, a type of diabetic nerve damage that can cause pain and numbness in the legs and feet.
However, people with diabetes who are taking medication to control their blood sugar levels should approach lion's mane with caution. Lion's mane may interact with diabetes treatments, Richard says, causing blood sugar levels to drop too low.
In addition, most of the research in diabetes has been done in animals and test tubes so far — more studies in humans may show if lion's mane can help with diabetes.
From theoretically protecting against heart disease and diabetes to improving brain and immune health, lion's mane mushrooms may have wellness perks to offer, though more research is needed.