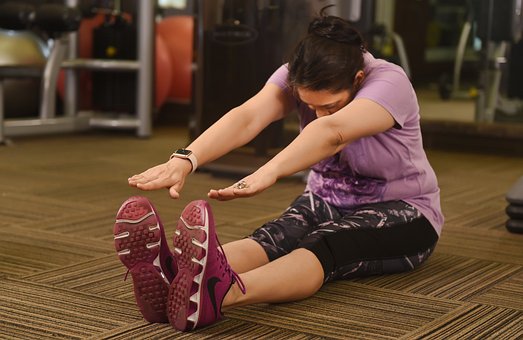 Losing weight is difficult for everyone. Gaining weight after the age of 40 is a real problem for men and women alike. In order to achieve successful weight loss for women aged 40 and over, it is important to take into account the hormones, lifestyle and exercises that are suited to that particular age group.
An increase in body weight is normal in people over the age of 40. Sometimes it can be difficult to slim down due to hormone fluctuations, energy changes, and other physical alterations. Nevertheless, in order to stay healthy and flexible, it's important to plan, engage in physical activity, and eat a balanced diet with essential nutrients.
What Makes Weight Loss Over 40 Work?
There are lots of essential elements to the most beneficial nutrition plan for women in their 40s.
When broken apart, planning of food selections for weight reduction can seem effortless. An effective weight loss diet over 40 includes:
The Right Number of Calories
Creating a weight reduction regimen for women who are in their 40s requires monitoring the amount of calories consumed.
As you get older, your metabolism slows, meaning you need fewer calories.
To maintain a healthy weight, the Dietary Guidelines for Americans suggest women over 40 eat the following number of calories based on how active they are:
Age 41-50: 1,800-2,200 calories
Age 51-60: 1,600-2,200 calories
Age 61 and older: 1,600-2,000 calories
If you want to lose weight, reduce your intake of calories by 500-1,000.
Many females need to consume between 1,200-1,500 calories per day (potentially up to 1,800 calories for women who weigh more or have highly active lifestyles).
To follow a reduced-calorie diet for weight loss, aim to eat about:
3 meals containing about 300-350 calories each
2-3 snacks containing 200-250 calories each
Lots of Vegetables
There are three main categories of vegetables. Starchy veggies have a high concentration of carbohydrates, and sometimes protein, while non-starchy veggies contain fewer calories and carbohydrates.
Try to ensure that one-half of your plate consists of non-starchy vegetables when attempting to shed pounds, and one-fourth of it should be made up of starchy foods.
Examples of the various types of vegetables include:
Non-Starchy Veggies: lettuce, spinach, other leafy greens, cabbage, onions, cucumbers, tomatoes, bell peppers, celery, mushrooms, asparagus, zucchini, broccoli, and cauliflower.
Protein-Rich Starchy Vegetables: peas, black beans, kidney beans, garbanzo beans, lentils, and other legumes.
Other Starchy Veggies: corn, yams, squash, and sweet potatoes.
Vegetables are packed with fiber, which helps with losing weight by making you feel full quicker and keeping you full for longer durations.
Protein
Eating foods that are rich in protein aids in slimming down because they make you feel full for longer, help your body to burn off extra calories, and maintain the muscles you have while dropping pounds.
Eat one quarter of your plate filled with healthy proteins, such as grass-fed beef, poultry, seafood, eggs, tofu, and seitan.
Consume minimal amounts of red meat, and avoid eating processed meats like bacon, sausage, ham, cold cuts, and hot dogs.
Protein Shakes
Protein shakes can be used to replace a meal or to provide a satisfying snack if you are trying to lose weight. They usually have large amounts of calcium.
To make a protein shake at home, blend together whey, casein, egg, or plant-based protein powder with either water or milk.
If desired, mix in some fruit or nut butter, combine it with ice, then enjoy!
Do Popular Weight Loss Diets Work?
Some diet plans that are known to be successful in the short term have gained a lot of attention recently.
However, it's unrealistic to maintain a fad diet in the long run, particularly when it limits a wide range of food types or eliminates specific food groups.
Examples of some popular weight-loss diets include:
Low-Carb Diets
Consuming fewer carbs may be useful for weight loss as it leads to a decrease in the quantity of calories you take in. This notion is particularly effective if you avoid added sugars, drinks loaded with sugar, and unrefined grains (like white bread, white rice, and processed foods).
But substantially reducing carbohydrates can make you feel sluggish and is commonly not sustainable over an extended period of time.
Reducing your intake of less healthy carbohydrates is an excellent way to help with weight loss, however, you should make sure to include healthy sources of carbohydrates in your diet.
Examples of foods that are beneficial to one's health include beans, nuts, seeds, whole grain products, fruits, and vegetables.
Making it simpler to stick to a weight loss diet and avoiding nutrient shortages makes it easier.
Low-Fat Diets
Cutting down on both carbs and fat in your diet can be beneficial for losing weight, as it decreases the amount of energy you absorb.
The reason for this is because fat has an unusually high caloric content of 9 calories per gram while carbs and protein contain 4 calories per gram.
It may be possible to lose weight on a low-fat diet, but you may not feel as full as you would with other diets as fat helps to make you feel fuller for longer.
All of us are unique, so it's up to you to decide what works best for you in regards to losing weight; however, you may find a balanced diet to be more effective than a low-fat or lower carbohydrate diet.
Vegetarian and Vegan Diets
Eliminating meat or other animal-derived products is an efficient way to reduce caloric intake when attempting to lose weight after 40.
Research shows that exchanging an usual American diet for a vegetarian diet, particularly a plant-based vegan diet, is effective in reducing weight in obese adults.
If you opt for a vegan diet to shed some weight, it is essential that you plan your meals in advance to ensure that you do not lack in any essential nutrients. Taking dietary supplements can help.
Ketogenic Diets
Consuming a ketogenic eating plan is a great way to shed pounds, especially in the short-term.
Analysis has shown that although the ketogenic diet could lead to significant weight loss within 5 months, it is not easy to sustain in the long run.
Eating a keto diet consists of consuming a lot of fat, moderate amounts of protein, and scarcely any carbs.
These foods can decrease feelings of hunger and cause your body to use fat as energy, but can cause tiredness and lack of essential nutrients if you consume them for a prolonged period of time.
Paleo Diets
A Paleo diet is filled with wholesome, nutritive foods that can help you with your weight-loss goals.
These dietary plans are abundant in fruits, vegetables, nuts, seeds, lean meats, fish, and plant oils – but have no grains, legumes, potatoes, or dairy products.
They have almost no salt and are not made with any extra sugar or highly processed ingredients.
Because Paleo diets are limiting, they can be hard to hold up over the long run for some individuals.
Very Low-Calorie Diets
VLCDs have a maximum of 800 calories (or fewer) each day and may result in a dramatic reduction in weight of 3-5 pounds each week.
Very Low Calorie Diets have the potential to decrease the chances of developing obesity-associated medical issues but should be undertaken under the guidance of a doctor.
Due to the difficulty of following through, potential risks, and the peril of lacking essential nutrients, very-low-calorie diets are not practical to use on a continual basis even though they are helpful for losing weight.
Inquire with your physician if a brief-term very low caloric diet would be suitable for you.
Meal Replacement Diets
Meal replacement shakes or bars can be a beneficial tool for those wishing to lose weight, particularly for those who have busy lives and are constantly on the move. These products can be a helpful way to control caloric intake.
Instead of relying on shakes and bars to replace each meal, utilizing them to lose weight is an effective technique, though it is important not to substitute every meal with a supplement.
Be wary of which ready-to-drink protein shakes and bars you buy, since many of them contain large amounts of sugar and other additives.
Recently, we presented an extraordinary new SuperFuel formula containing additional nourishment components and less than one gram of sugar per portion.
Shakes made with protein powder, plant-based milk, and either fruit or nut paste can be a good option!
Smart Goals for Over- 40 Weight Loss
Studies have indicated that behavioral characteristics are important for someone to have in order to have a successful experience losing weight. It is thought that having an aim for your weight loss plan will provide the necessary motivation to stay the course when things get difficult. In addition, small daily actions (like eating 2 to 3 extra servings of vegetables) can help you reach your ultimate weight loss goal.
Unsure of how to create realistic objectives that will lead to actual weight reduction results? Make achievable goals. An illustration of this would be dropping 5 kgs over the course of 3 months. Divide the larger target into more manageable parts, such as making time to walk for 45 minutes per day, consuming 4-5 servings of fruits and vegetables, sleeping for 8 hours straight, taking multi-vitamins and so on. Be sure to be as precise as possible, ensure that your goals are achievable and detailed, relevant and have set deadlines.
Begin by attempting it for a week and observe how you are doing. Then, do not make modifications and fall off. It is essential to keep in mind that it takes three weeks for a habit to become established.
1. Do Get Enough Sleep
It is difficult to reduce weight when not getting enough sleep. Research has suggested that when we are worn out and lacking in sleep, we are more likely to select unhealthy food items. When we are exhausted, we are less likely to exercise and stay physically active. It is important to make slight modifications to enhance your sleep during the night.
Start a bedtime routine that you adhere to before you go to bed. It could mean soaking in a calming bath or having a soothing shower. You may need to deactivate your mobile phone and put it somewhere not in your room. Lots of intelligent alarm clocks also forbid other electrical gadgets such as a television set from existing in the space.
Try to get up at the same time each day, even on weekends. Avoid consuming caffeinated drinks that are high in calories, and use diet-friendly ways to energize yourself instead, like drinking herbal tea.
2. Drink More Water
Consuming a greater quantity of water is a helpful and uncomplicated means to promote weight loss with the least energy.
In a study, consuming 500 ml of water resulted in a 30% spike in the amount of calories burned after 30-40 minutes. Research shows that having a glass of water before having a meal can assist in shedding weight, and lessen the amount of calories eaten by about 13%.
3. Eat More Fibre-Rich Foods
Research suggests that increasing the amount of fibre in your eating habits is a common way to shed pounds. It aids in digestion and keeps you satiated for a longer amount of time.
By simply incorporating 14 grams of dietary fiber into their diets daily, people have been found to consume 10 percent fewer calories and shed an average of 4.2 pounds (1.9 kg) over the span of 3.8 months.
All types of food such as veggies, fruits, legumes, seeds, nuts, and whole grains provide dietary fibre that you can delight in as part of a healthy eating plan.
4. Use Smaller Plates 
Using limited dish sizes can help people manage their portions better, leading to weight reduction. Despite the limited and inconsistent amount of research out there, one study showed that people who used smaller plates ate less and felt more satisfied than those who used regular sized plates. Using a smaller dish to eat can help keep portions under control and keep track of caloric intake.
5. Chew Slower
Making a conscientious attempt to masticate at a slower rate can aid in shedding weight due to a reduction in the amount of food consumed. One study found that eating less calories was a result of chewing fifty times per mouthful, rather than fifteen times per mouthful.
6. Eat a Healthy Breakfast 
Beginning your day by having a nutritious breakfast can help you set the tone for the rest of the day and stay energized. Studies show that maintaining a consistent eating pattern is linked to a lower risk of binge eating.
Eating a meal that is high in protein has been associated with decreasing the levels of the hormone ghrelin, which stimulates cravings. Therefore, it can help to regulate desires for food and hunger.
7. Limit Processed Foods
Refined foods typically contain higher amounts of sugar, calories, and sodium and much lower levels of beneficial nutrients such as fiber, protein, and micronutrients.
Research suggests that women may be more likely to gain excess body weight when they eat a lot of processed foods. Hence, it is sensible to cut back on eating processed items, and substitute them with whole foods like vegetables, fruits, healthy fats, whole grains, lean proteins, and legumes.
8. Don't Rely on Cardio Alone
During your twenties and thirties, you may have achieved weight loss by implementing a walking program or keeping busy throughout the day. You might have slimmed down by attending aerobic workouts or other cardiovascular exercise. Are you really committed to shedding pounds after turning forty? If that is the situation, you should include strength training in your workout plan.
Conclusion
The elements that go into successful weight loss are varied and can encompass much more than just food intake and physical activity. Implementing minor changes to your routine can help women to achieve lasting weight reduction. Including some or all of these strategies in your routine can help you get the best results and achieve sustainable weight loss.