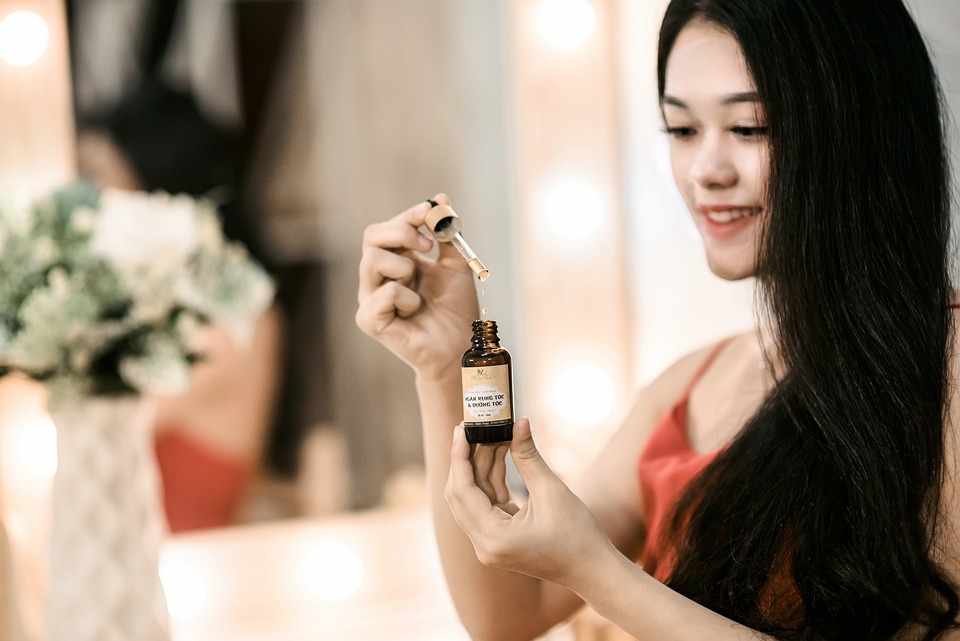 You may own a number of cosmetics and toiletries, like expensive facial creams, detergents, and moisturizers, that are advertised as improving your skin's appearance, making you look younger, treating acne, and so on. Though using these compounds may produce temporary improvements in one's complexion, they eventually enter the bloodstream after being absorbed by the skin, leading to negative long-term consequences due to their accumulation in the body.
Thankfully, there are a lot of cheaper, environmentally friendly, and healthier alternatives that work better than a lot of store-bought items and don't include any of those dangerous materials. It does not matter what kind of skin you happen to possess, there is an oil which comes from nature which you can use to tackle any issues and promote a healthy and vibrant appearance.
It can be tough to choose which oil to go with given the variety of options available. This is an examination of the different oils and which types of skin they are suitable for in order to make life simpler.
Grapeseed Oil
Women who have skin that is inclined to acne or is oily should consider grapeseed oil as a top choice due to its properties which can help shrink skin. Oil that comes from the seed of grapes has a high concentration of antioxidants and linoleic acid, which is helpful in the treatment of inflammation, including in the control of acne. Its powerful substances are swiftly absorbed by the skin, enabling them to penetrate deeply into the cellular tissue. It may be surprising, but putting oil on your face can actually help reduce how much oil your skin produces, and grapeseed oil is the ideal oil for this purpose. This product calms irritated skin erupting and keep secreting too much oil from causing breakouts. This happens because when your skin gets dried out, it tries to rebalance itself by producing more oil, causing your skin to become excessively oily. Grapeseed oil is lightweight, resulting in a non-greasy sensation on the skin. Instead, it moisturizes while balancing oily and dry areas.
Grapeseed oil can be helpful in diminishing the look of dark circles underneath the eyes. If you apply it regularly over the course of a few weeks, you'll see a considerable change. The oil is abundant in OPCs (oligomeric proanthocyanidins), which means it can be useful for rebuilding collagen. These substances aid in eliminating free radicals and encouraging collagen restoration at the cell level. It can tighten your skin, and also stop and reduce any signs of damage.
Hemp Seed Oil
Hemp seed oil is on the same level as grapeseed oil as a remedy to solve skin problems. It has not only been discovered to be beneficial in treating acne, but it has also been found to be successful in treating skin problems like rashes, eczema, and psoriasis. It is thought that the fatty acids within hemp seed oil can affect the immune system in a positive way and potentially aid in the healing process. This could be due to its ideal blend of omega-6 and omega-3 fatty acids. This product does not have any potential to cause pimples or clog your pores because its comedogenic rating is zero. Grapeseed oil can aid your skin in regulating its secretion of sebum, thus reducing the occurrence of pimples.
This oil is ideal for those with oily skin due to its easy absorption, providing moisture without feeling greasy. It can help refresh and purify the skin and even out the complexion. This oil replenishes dry skin without leaving a heavy residue that blocks pores like some other oil types usually do. If you want a hydration product that won't leave a sticky feeling, hemp seed oil can be a fantastic pick. Due to its likeness to our lipids, this substance has the ability to enter cells and coat the surfaces between them.
Jojoba Oil
The jojoba tree, which grows in the Southwestern United States and Mexico, yields jojoba oil, which is actually a wax ester when it is distilled from its seeds. This has a texture and molecular makeup similar to sebum, or the oil generated by your body's skin. It is fairly light, won't leave an oily residue, and is suitable for both acne-prone and oily skin, as well as dry, matured, and standard skin types. The main benefit of using this product for those suffering from acne is that it is able to replicate the skin's regular sebum, which in turn causes the skin to believe that it has produced enough oil. This subsequently lowers the amount of sebum on the skin's surface. Jojoba penetrates the skin more rapidly than other oils.
Jojoba oil is advantageous for those who experience excessive oiliness in their skin, as its composition is similar to human sebum. Utilizing this oil can help to bring balance to the natural oil production of the skin. By replicating the construction of the external layer of skin, it facilitates the oil to go in more rapidly, providing nutrition just beneath the surface of the skin, this suggesting that it could actually "persuade" the skin that it has already created an adequate amount of oil to avoid difficulties such as oily skin and excessive oil output.
Coconut Oil
Coconuts provide a wealth of protein, fatty acids, and vitamin E that quickly absorb into one's skin, as well as provide antibacterial benefits. It is an excellent product for hydrating and nourishing dry skin, as well as for those with combination skin that need to soften dry parts. Many commercial moisturizers contain a high percentage of water, giving the illusion that your skin has been hydrated. Once the water evaporates, the skin will return to its dry state, in addition to all of the oil-derived substances that can smother the skin. Instead of other products, coconut oil provides significant, prolonged hydration and aids in strengthening the tissues in the skin, as well as helping to slough off excess dead skin cells which can cause a rough and flaky texture.
This oil is effective in keeping skin supple and hydrated due to its medium chain fatty acids that lock in the moisture to prevent losing out of the pores. Its application renders the skin soft and smooth.
Coconut oil is the perfect solution for older skin since it is abundant in vitamin C, which is fundamental to the maintenance and restoration of skin, making sure it is supple and avoiding dryness or splitting. It can prevent premature aging and wrinkles too.
Sweet Almond Oil
Almond oil is a very nourishing product that has a higher amount of monounsaturated fatty acids than other oils, so it can immensely hydrate and calm irritated, parched skin while helping you look more youthful.
Almond oil can be used as a natural face scrub to get rid of old skin cells and promote the emergence of healthier skin. When rubbed onto the skin, the fat in the cells receives it and the wetness in the oil is taken advantage of by the tissues to fix cells that are harmed and make the skin look more radiant. The oil is partially credited to its antioxidant features, as it additionally aids in safeguarding the skin from ultraviolet radiation damage and maintaining the skin moisturized and pliable.
If you struggle with eczema or psoriasis, consider using sweet almond oil which can reduce the redness, discomfort, and inflammation associated with these conditions. This is suitable for those with skin susceptible to pimples since it can also help to cure skin irregularities. Almond oil, because of its thin consistency and ability to quickly be taken in by the skin, can unclog pores that have buildup and can help battle future zits because of its vitamin A.
The Best Face Oils of 2022, Tested and Reviewed
Best Overall: Le Prunier Plum Beauty Oil
This product is made with a combination of nourishing plum oils and keeps the texture light. It hydrates the skin and adds a glowing, natural appearance. The product is comprised of just a single, organic element–100% plum oil–which makes it appealing to those who are prone to having adverse reactions to a variety of skincare components, unless, of course, plum oil is one of them.
Best Splurge: ISDIN Isdinceutics Melatonik Restorative Night Serum
Getting a superb night cream to look after your complexion while sleeping is our concept of the perfect beauty rest. This has been created with a mix of melatonin, bakuchiol, and vitamin C to give your skin protection against free radicals and aid in increasing its elasticity.
Best Budget: Bio-Oil Skincare Oil
This oil, which is greatly beloved, has gained notoriety for its capability to reduce the growth of stretch marks on the body. However, it is also an amazing choice for hydrating the facial skin, and for making the complexion clearer and more even. This product is beneficial in healing skin harm caused by blemishes and stretch marks, thereby making it the optimal decision if you have acne scarring.
Second Place for the Most Affordable Option: Ordinary 100% Natural Cold-Pressed Rose Hip Seed Oil
Rosehip oil is beneficial for the skin in many ways, such as reducing inflammation, promoting collagen production, and providing hydration, among other uses. This food is abundant in vitamin A, which can cause an increase in collagen production and minimize the visibility of wrinkles and fine lines, as well as contain healthy fatty acids, which help keep the skin moisturized.
This cost-effective serum contains only organic, sustainably-sourced 100% pure rose hip oil. This product is securely wrapped in UV-protected packaging to keep it safe and sound, plus it is provided at a great cost which makes it even more desirable.
Palmer's Cocoa Butter Formula Moisturizing Skin Therapy Face Oil is the ideal product for providing nourishment.
Certain facial oils provide more than just hydration to the face. This product contains retinol and Vitamin C which can help reduce the look of wrinkles and dark areas on the face. It could be a great choice for people who usually find retinol too powerful or drying, as the oil in the formula can help neutralize the effects.
It should be noted that some people with oily skin had a negative reaction when using this product, so it is best suited for those with dry or mature skin.
Best Lightweight: Ghost Democracy Softglow Facial Oil
If the concept of rubbing oil on your face scares you, or you dislike the sensation of thick skincare items, this is an excellent decision. This product hydrates and shines the skin while keeping a featherweight texture, and our tester found that it absorbs into the skin rapidly. This combination of vitamins and fatty acids works to offer antioxidant defense, soothe inflammation, and increase the strength of the skin's defense barrier.
Best Drugstore: Burt's Bees Complete Nourishment Facial Oil
When thinking of Burt's Bees, you may immediately think of lip balm, but don't underestimate their skincare products- you should use them as you sleep. This budget-friendly mixture includes rosehip oil, essential fatty acids, and vitamins to create a hydrated and healthy complexion.
This product has a good cost, available in several drugstores, yet the packaging only has 15ml of liquid, which causes it to be costlier than other drugstore choices.
Best for Oily Skin: Aesop Fabulous Face Oil
If you have oily skin, be sure to select facial oils with a light, non-greasy consistency to prevent adding more oil to your skin. This product is put together with a mix of plant-based agents which help to even out and smooth the skin, and it has a thin texture which provides long-term hydration.
Remember that the fragrance has a strong green smell since it is made up of various plant extracts. Some individuals may think it to be a bit too potent.
Best for Dry Skin: Epara Balancing Face Oil
People who have dry skin are usually able to bear thicker skincare products, but it is still possible to be too thick and hefty, even for dry skin. We believe that this face oil has a great texture for dry skin – it is nourishing without being overly thick. This blend of nourishing substances is designed to make the skin more supple, add hydration, and renew its elasticity.
Most suitable for those with combination skin: Virgin Marula Luxury Facial Oil from Drunk Elephant.
If you're someone with a combination skin type, you're aware of how hard it can be to maintain both oily and dry areas. This makes it difficult to come up with formulas that supply enough moisture without making it too greasy. If this description fits you, test out this luxurious oil.
This moisturizing formula is made with pure, unrefined marula oil, and it contains various antioxidants and omega fatty acids that help to keep your skin hydrated and shielded from any external stressors. This product has a light consistency that absorbs into the skin rapidly, creating a smooth and velvety sensation. This product is so luxurious that it will noticeably replenish the skin's moisture levels, yet it's not heavy enough to give you an oily sheen.
For those with sensitive skin, Kora Organics Noni Glow Face Oil is the best choice.
If you have delicate or inflamed skin, it's essential to find a fantastic product that can calm it and give it moisture. This reviving oil includes noni concentrate (noni is a plant that produces fruit in Southeast Asia), in addition to rosehip and pomegranate oils to make a combination of cancer prevention agents and fundamental unsaturated fats.
ACURE Radically Rejuvenating Rose Argan Oil is ideal for those with acne-prone skin.
It is no longer necessary to tell everyone with acne-prone skin to avoid skincare items that contain oils. It is important to stay hydrated regardless of your skin type, though consulting with a dermatologist when suffering from acne is heavily encouraged. This is a perfect choice for those with acne-prone skin because it moistens properly without a heavy, congesting texture.
This oil, which is both inexpensive and easy to use, is made with a combination of rose and argan oils that are full of antioxidants and fatty acids that will nourish and guard the skin. We also acknowledge the fact that it can be employed on the hair and skin all over the body, thus making it even more of a bargain.