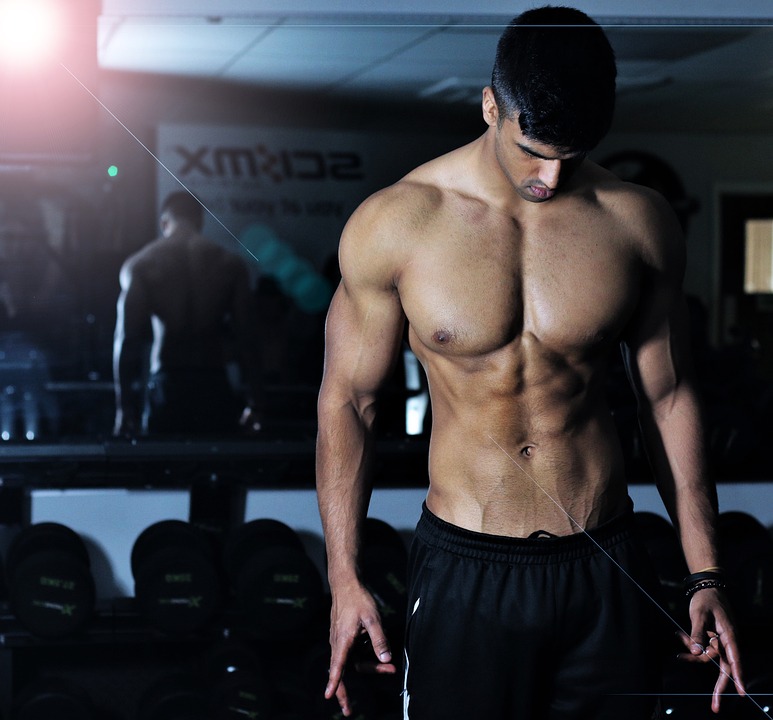 The solution to having visible abs isn't only about dieting and eating healthy foods. Nutrition plays a role in how quickly you can achieve a lean body and see your abs, but the right training approach will help speed up the process and give you the best results.
Here are some workouts to help tone your midsection while you work on your diet.
The Complete Ab Workout
There are many pieces of equipment in a gym that can help you work on your abs. Some of the most common pieces of equipment are ab benches, ab wheels, and stability balls. Executing your movements correctly and treating your abs with care will help you achieve the results you want. Some weightlifters don't think ab training is important and just do the exercises quickly without paying attention.
Roman Chair Leg Raise
How to Do It: Climb into a Roman chair (also known as a dip/chin station or hanging leg raise station) and support your body weight using the elbow pads with your upper body against the back pad. Tilt your pelvis forward slightly and bend your legs. The more your legs are bent, the less challenging the exercise; the more they're straight, the more difficult the movement becomes. Raise your legs up until they are even with your waist before lowering them back down. Move slowly and use control throughout the entire rep.

Sets and Reps: 3 x 10-15

Rest Time: 30 seconds between sets.
Hyperextension Bench or GHD Sit-Up
How to Do It: Sit "backward" on a horizontal hyperextension bench or GHD (glute-ham developer), facing upwards with your shins fixed under the pads and your legs relatively straight. Cross your arms over your chest and keep them in place to avoid swinging for assistance. Lean back slowly until your torso is almost parallel with the floor and you're facing the ceiling. Contract your abs to curl your upper body into an upright position.

Sets and Reps: 3 x 15

Rest Time: 20 seconds between sets.
Cable Woodchop
How to Do It: Attach a single handle to a high cable pulley. Stand sideways to the handle and grab it with both hands. Keeping your arms slightly bent, bring the handle down and across your body until it's at your waist on the opposite side. Slightly twist your torso and crunch down towards the handle using your obliques (side ab muscles). Slowly return to the starting position. Perform all reps for one side before flipping your stance to work the other side.

Sets and Reps: 3 x 10 per side.

Rest Time: None
Machine Crunch
How to Do It: Sit in a crunch machine and grab the handles above your head. Focus on contracting your abs by bringing your ribcage and pelvis together. Pause in the crunched position and squeeze your abs before returning slowly to the starting position.

Sets and Reps: 3 x 10-15

Rest Time: 20 seconds between sets
The Home Gym Ab Workout
This workout uses an exercise ball and resistance bands to tone your abs. Working your abs with more intensity can be achieved by doing bodyweight exercises instead of spending money on specialized equipment.
Banded Crunch
How to Do It: Wrap the center of a resistance band around a stable object around waist height. Lie on the floor in front of the band and hold both ends near your shoulders. With your legs bent and feet flat on the ground, crunch your upper body to pull the band. Hold the top position for one second before returning down slowly.

Reps and Sets: 3 x 10

Rest Time: 20 seconds between sets.
Exercise Ball Leg Raise
How to Do It: Lie on the floor with your arms flat and your hands next to your hips. Squeeze an exercise ball between your feet and calves. Lift your legs to raise the ball up and over your pelvis, then lower it close to the floor. Don't allow the ball to touch the floor until the entire set is completed.

Sets and Reps: 3 x 10

Rest Time: 20 seconds between sets.
Banded Twist
How to Do It: Secure a band to a stable, upright object around waist height (heavy table, chest or dresser, etc.). Stand sideways to the band and grasp it, keeping your elbows by your sides bent at 90 degrees. With your hips and feet stationary, "pull" the band by twisting your upper body while actively contracting your obliques and abs for stability. Return to the starting position. Repeat all reps for one side before switching.

Sets and Reps: 3 x 10 per side.

Rest Time: None
The 6 Best Ab Machines of 2022 for Home Use
When choosing an abdominal machine, it is important to pick one that "lets you train in multiple planes of motion, not just up and down like crunches," Parker Oliver, CFSC, certified functional strength coach and chief operating officer of BRX Performance, says.
Best Ab Roller: Vinsguir Ab Roller
Ab rollers provide an affordable, efficient, and quiet way to work out at home. The Vinsguir Ab Roller has a 5 out of 5 for portability due to its compact design, making it easy to store and take outdoors or on the road. The instructions are easy to follow, and we had no trouble setting it up without any tools.
Ab rollouts are not beginner moves, so the roller is recommended for intermediate or advanced exercisers. The roller did well in our Lab testing and was safe and easy to use. The foam handles on this test model were comfortable and fit the shape of the tester's hand, compared to the harder plastic handles on some other models. The knee mat that is included is not very thick or sturdy, so you might want to use a different mat at home for better knee protection.
The roller's low price makes it a good option to try if you want to add variety and challenge to your ab workouts.
Best Ab Coaster: Tristar Products Ab Coaster MAX
If you're looking for a fitness machine to add to your home gym, the Tristar Products Ab Coaster MAX is a great option. This machine is very easy to use because it only requires a simple sliding motion, which is why it received a perfect score of 5 out of 5 for ease of use.
To use the machine, stand or kneel on the built-in, cushioned foot-and-knee plate and grip the handlebars. Engage your core to bend your knees and slide the foot-and-knee plate up toward your chest. Start in the same position as before, but this time slide the foot-and-knee plate back down to the starting position in a slow, controlled manner while keeping your core engaged. This exercise is very effective in working both the upper and lower abs without putting any strain on the neck or back.
To change the difficulty of the exercise, you can either make the movement faster or slower. The obliques can also be used to twist the foot-and-knee plate, which will in turn challenge the side abs.
You can use the ab machine with a maximum weight of 300 pounds. Our testers found it to be strong and durable while in use. The ab coaster scores 4.5 out of 5 for ease of assembly – our tester was able to put it together on her own in half an hour.
The handlebars on this bike are comfortable and allow for a good grip even when your hands are wet. This machine may be too challenging for some beginners, even though it is very effective and can even be fun for those with established core strength. This equipment takes up more room than other similar equipment we tested. We recommend this product to someone who has dedicated space for a home gym.
Best Sit-up Foot Anchor: Aduro Sport Doorway Exercise Bar
The Aduro Sport Doorway Sit-up Exercise Bar is a simple and effective addition to any home gym which allows you to better isolate your abs during sit-ups and crunches while keeping your feet firmly in place.
We found the product easy to set up and use. It scored a 4.5 out of 5 for both ease of use and assembly. To begin, put the bar under a door and tighten the clamp to hold it in place. Place the band around your ankles, then slip your feet under it and use it to anchor your feet during a variety of ab exercises.
The ankle bar which is made of reinforced steel and covered with foam was found to be durable and comfortable. The tester had good control and traction while performing exercises. Overall, our tester was pleased with how well this tool helped her stay in place during sit-ups and crunches, which made the exercises more effective. However, she didn't find it useful for other exercises, so we only gave it a 3 out of 5 for versatility.
The product we tested did not come with an exercise guide, which can be useful for beginners. An ankle bar is a nice option for small spaces or when traveling because it is compact and portable.
Best Two-Set Ab Roller: SKLZ Core Wheels
These SKLZ Core Wheels can help you improve your core workouts if you are already doing some exercises and are looking to do more or go to the next level. We were pleased with how little effort it took to set them up, as no assembly was required. These wheels are perfect for those who want to be able to take them with them wherever they go. They are very lightweight, making them easy to carry in a gym bag, and they received a perfect score of 5 out of 5 for portability.
The wheels can be used for different types of ab rollouts, as well as more traditional core exercises, to work your core muscles from different angles all at once. This set of ab rollers is more versatile than the Vinsguir Ab Roller, so we gave it a nearly perfect score of 4.5 out of 5 for versatility.
The set comes with a training guide, so you can choose from a variety of exercises and find the ones that work best for you. You can also find information on how to properly use the equipment. Our tester noted that the wheels glided smoothly over different surfaces, and the ergonomic foam handles were comfortable and easy to use, making it a good choice for anyone looking for an easy-to-use piece of luggage. If you want versatile equipment for your home gym that is not too complicated, these wheels are a good option.
Best Core Sliders: Synergee Core Sliders
Synergee's core sliders are a great way to make your workouts more dynamic and intense. They're affordable and high quality. We found the labs easy to use since there was no assembly required and they were very straightforward. This earned them a perfect score of 5 out of 5 for ease of use. Portability is important for computers because it allows people to take them with them when they travel. We think that the portability of these laptops is perfect, which is why we gave them a score of 5 out of 5.
The sliders can be used on any surface as they have two sides. When cleaning smooth floors, use the grippy foam side of the tool. When cleaning carpets, use the plastic side. After testing this product, it was noted that using the sliders required more engagement from the user's core and concentration compared to similar exercises that use only the user's body weight. These factors made the exercises more difficult, but also more effective.
This pick is not as versatile as some other ab equipment when it comes to working out your abs specifically, but it is still ideal for moves like mountain climbers, planks, body saws, and knee tucks. You can also use sliders to make exercises more challenging for other body parts, such as leg curls or side lunges.
Best Bench: XMark Fitness Adjustable Decline Ab Workout Bench
This workout bench is designed to help you work on your lower body, particularly your abs. The XMark Fitness Adjustable Decline Ab Workout Bench will be a great addition to your home gym if you want to focus on working out your lower body, especially your abs. Because its decline level is adjustable to various degrees, we found that it can be used for all levels of fitness—simply increase the decline if you want to make ab exercises like decline sit-ups more challenging, or decrease the decline to take a load off.
Our testers rated the lab test 5 out of 5 for accessibility, meaning it was easy to use for all levels of exercisers. The bench can be as declined as you want it to be, with 12 different settings. It works great for exercises such as decline sit-ups, bicycle crunches, and Russian twists.
The steel frame makes it very sturdy and durable. This machine is larger than some other ab machines, but it is easy to move around because it has wheels.
The leg holder with foam lining and the bench with plush padding is both durable and comfortable, making exercises more enjoyable. You can't use the bench for traditional weightlifting exercises like the dumbbell chest press because it can't be made completely flat.