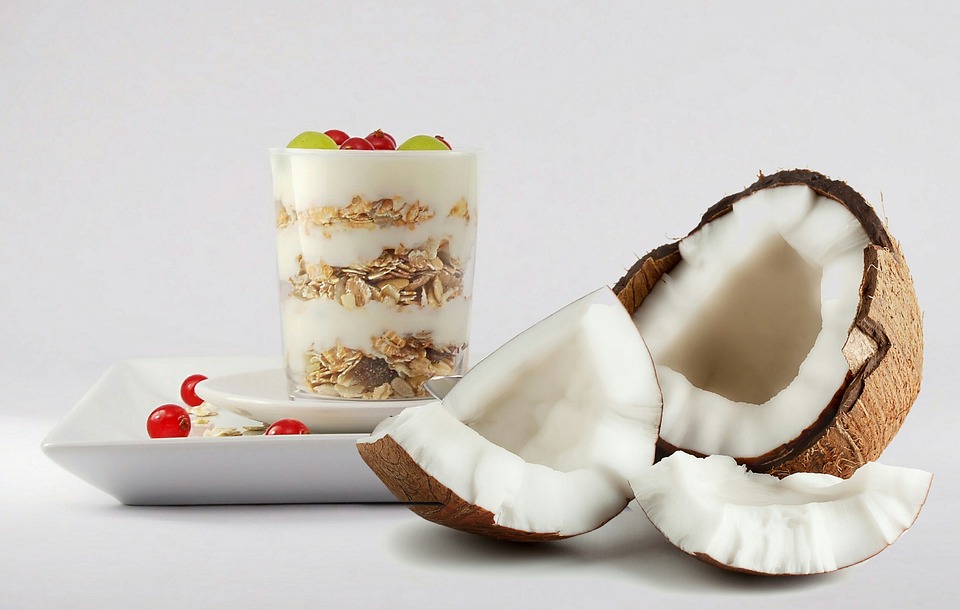 Southern Asia, Malaysia, and Polynesia produce a large amount of coconuts. People often get confused and think a coconut is a nut, but it is actually a one-seeded fruit that has a thick, leathery outer skin and a pulpy inner layer, as well as a hard-shelled middle containing a single seed. In Sanskrit, the coconut palm has the title of Kalpavriksha which has a meaning of "tree of life." There is a range of uses that are beneficial to living organisms, such as water, milk, flesh, sugar, and oil. Not only the actual plant but even the outer casings and foliage can be utilized to build furniture pieces and enhance the decor.
What Is Coconut Milk?
The coconut has four edible parts: liquid, cream, flesh, and milk.
The fluid inside an unopened fresh coconut is a milky liquid, which is made up of mostly water (94%). This liquid can be obtained by breaking open the coconut.
Coconut milk is not "milk" in the conventional sense. This can be made by taking coconut meat, blending it with water, and subsequently straining it to produce a viscous liquid that is roughly fifty percent water.
The optimal method of obtaining coconut milk is to purchase more mature coconuts. As the coconuts grow older, the liquid inside them is gradually replaced by the white flesh, making them more suitable for producing coconut milk.
In the upcoming segment, we will evaluate if coconut milk is beneficial.
Is Coconut Milk Good For You?
Do not be discouraged by the high-fat content of coconuts.
Drinking coconut milk in limited quantities can promote a sound diet and beauty regimen.
A multitude of dishes make use of coconut milk, and it is also commonly employed in beauty treatments for the skin and hair. In South East Asia, it is an essential component of almost all meals. If you are accustomed to eating Thai cuisine frequently, you understand what I am referring to. It is well known in Hawaii, India, as well as various countries in South America and the Caribbean.
Cooking with coconut milk has benefits beyond flavor, as it is also packed with many essential nutrients.
8 Health & Beauty Benefits Of Coconut Milk
1. Treat dry, damaged hair
Coconut milk is an excellent moisturizer. This product can be utilized to mend damaged, brittle hair and alleviate a bothersome, inflamed scalp. Leave a can of unsweetened coconut milk in your fridge for one night and it should become solid. Divide your dry hair into 3 to 5 parts in the morning, then go through each part sequentially, rubbing coconut milk into the roots and up to the tips. Cover your hair with a shower cap and leave the face mask to sit for approximately 20 minutes. Afterward, rinse it out in the shower. This treatment is great for getting back soft, healthy hair and fixing split ends.
2. Prevent hair loss and encourage hair growth
Coconut milk has all the vitamins and minerals necessary for strong, healthy hair. It can even boost follicles and promote hair growth. To do this, combine approximately ¼ cup of coconut milk and ½ cup of water. Incorporating lavender essential oil into your routine can provide extra gains. Not to mention a nice smell, you may observe improved blood circulation, a lowered possibility of hair loss, and better hair development. Rub the blend into your scalp and let it stay on for approximately two hours. Afterward, rinse well in the shower.
3. A hair detangler and conditioner
Organic coconut milk can be a great way to make your hair softer and add thickness and overall length, plus it can help you to untangle your locks. As you comb through your hair, you can easily work out knots and snarls by lightly massaging some milk into the strands. You could also try utilizing it as a leave-in hair treatment. It will give your hair extra fullness without making it oily. Put a tiny bit of coconut milk in the center of your hand and move your hands around each other to create friction. Leaning over, let your tresses fall towards the ground, and then work the milk into your hair from the scalp to the bottom of the strands.
4. Prevent premature aging
Consumption of coconut milk can be beneficial for your skin's look and health. This dietary supplement is packed with Vitamin C, enabling it to provide your skin with elasticity and suppleness. It also has a high copper content, helping keep age spots, wrinkles, and sagging skin at bay. Incorporate a half cup of coconut milk, one tablespoon of raw honey, and five drops of eucalyptus oil to make a face mask. Soak a cotton pad in the anti-wrinkle solution and use it to rub over your face, as well as any other area exhibiting wrinkles. Let the mixture remain for around 10 minutes and then clean it off with a tepid liquid. It can make your skin stay moisturized and appear more youthful.
5. Soothe a sunburn
If your skin has been affected by too much sun exposure or has sunburn, you can alleviate the discomfort by gently spreading a superficial layer of cooled coconut milk over it. The oils and fats in the milk will rehydrate, reduce inflammation, and give relief from distress. It can be used at any hour, but it's recommended to put it on prior to going to bed and leaving it on for the night. Wash it off once you wake up.
6. Prevent acne
If your complexion is vulnerable to acne, try using coconut milk as a facial cleanser. The antibacterial qualities may stop acne from forming, whereas the oil and fat of the milk don't cause blockage in pores.
7. An overall skin moisturizer
It's likely that you have come across milk baths, however, coconut milk is more helpful than cow's milk because of its incredibly calming effects. While the bath is filling, pour a minimum of one cup of coconut milk in the water; you can also add a half cup of rose water for some helpful advantages, plus a nice scent. Spend around 15 minutes in the tub to rehydrate your parched skin and emerge feeling like silk. Applying coconut milk directly to the skin can promote skin that is healthier and has a radiant appearance, as well as help to reduce dryness.
8. Support heart health
One can foster better health by drinking coconut milk; this includes bettering one's heart health. Coconuts are exceptional due to the lauric acid they contain, which has antiviral, antibacterial, and cholesterol-improving properties. This fatty acid has many beneficial effects on health. In 2013, it was discovered that people who ate coconut milk porridge five times a week during an eight-week time frame had their LDL (the "bad" cholesterol) levels drop and their HDL (the "good" cholesterol) levels rise. It was determined that the fat present in coconut milk is positive for total cholesterol levels instead of being damaging.
Coconut milk has been found to be helpful in reducing hypertension and it may clear away plaque accumulation from the arteries, which is beneficial for ensuring cardiovascular well-being and decreases the possibility of a heart attack.
How To Make Coconut Milk At Home
Making this delicious milk takes just about 10 minutes. It's an affordable and healthier alternative to regular milk. The process is described below.
You Will Need
4 cups of water

1 ½ to 2 cups of unsweetened shredded coconut
Method
Heat the water, but make sure it does not boil.

Blend the coconut in a blender.

Add water and blend again for a few minutes until the mixture is thick and creamy.

Strain the mixture through a mesh to obtain the liquid. If needed, you can squeeze the remaining pulp through a muslin cloth or a thin towel to get the remaining liquid.

The collected liquid is coconut milk.

Drink immediately or store it in the refrigerator for a while.
Let's now understand how you can use this milk.
How To Use Coconut Milk
One can come up with lots of imaginative methods to include coconut milk in their culinary dishes and beauty routines. Here are a few suggestions:
You can use coconut milk as an alternative to regular milk in your breakfast porridge.

Toss your cooked pasta or spaghetti in a little coconut milk to make the dish saucier and tastier.

You can use coconut milk or coconut cream in certain puddings to make them creamier.

Use coconut milk in soups to add a rich nutty flavor and a dash of healthy fat to it.

Use it as part of your beauty routine on your body and face to nourish your skin and make it glow.

Use coconut milk on your hair to boost hair health and prevent grays, hair fall, and dandruff.

Drink coconut milk as it is.
Are you curious about different inventive ways to incorporate this milk into your culinary endeavors? We have chosen these recipes especially for you to enjoy.
What Are Some Healthy Coconut Milk Recipes?
1. Coconut Shrimp Curry
You Will Need
For The Marinade
½ kg large shrimp (peeled and deveined)

¼ teaspoon salt

¼ teaspoon black pepper

¼ teaspoon cayenne pepper

2 tablespoons lemon juice
For The Sauce
1 tablespoon coconut oil

1 medium onion (chopped)

3 cloves garlic (minced)

1 tablespoon ginger (minced)

½ teaspoon black pepper

Salt to taste

½ teaspoon turmeric

2 teaspoons coriander powder

1 teaspoon curry powder

410 grams of diced tomatoes

385 ml coconut milk

Fresh cilantro for garnishing
Method
In a bowl, mix the shrimp with all the marinade ingredients. Cover the bowl and leave it in the refrigerator.

Heat the oil in a pan.

Add the onions to the oil and sauté for a few minutes till they are translucent. Add the ginger, garlic, salt, pepper, coriander powder, turmeric, and curry powder. Cook for a minute or two.

Add the tomatoes (with the juice) and the coconut milk. Stir well and bring this to a boil.

Simmer for 5 minutes, stirring occasionally.

Add the marinated shrimp (with its juices) to this mixture. Cook for a few minutes till the shrimp is cooked well.

Garnish with fresh cilantro and serve hot with rice.
2. Coconut Milk Chocolate Mousse
You Will Need
2 cans of full-fat coconut milk

4 tablespoons cocoa powder

4 tablespoons sweetener (maple syrup, coconut nectar, or honey)

2 teaspoons vanilla extract

A pinch of salt

100 grams of dark chocolate
Method
Pour the coconut milk into a bowl and whisk it well.

Add the cocoa powder, salt, and vanilla extract and whisk while adding the sweetener.

Whisk this mixture for a few minutes until it starts to thicken.

Once you get the desired consistency (thick but pourable), pour it into your serving glasses or dish and leave it in the refrigerator to set.

After a few hours, top it with chocolate shavings and serve.
It is essential that you have knowledge of the technique of selecting and keeping coconut milk so that your dishes turn out perfectly.
How To Select and Store
Selection
When buying coconut milk from the store, there are a few things you need to look out for:
Avoid Cans: Try not to buy coconut milk that is sold in cans since they are known to contain BPA, a carcinogen.

Avoid Added Sugars: Always buy unsweetened coconut milk that does not have added flavors or sweeteners.

Avoid Carrageenan: This is a common additive in some varieties of plant milk that can be cancerous and cause digestion troubles.

Choose Organic: Always buy organic coconut milk.
The optimum approach is to prepare your own coconut milk. By using the steps laid out in the article, you can have freshly-made and nutritious coconut milk in just a few minutes.
Storing
What is the best way to keep coconut milk, if it's homemade or store-bought?
Begin by utilizing the self-made one more often than depending on the commercially purchased one. Produce an amount that you can use up all of at once.
If you must save coconut milk, the best way to do so would be to pour it into a tight-lidded glass container and then place it in the fridge until it needs to be used. Shake the jar thoroughly before your next use.
You have the option to freeze a substantial amount of milk. This way, it will stay fresher for longer.
Advantages are typically accompanied by a certain amount of drawbacks. Let's find out if coconut milk has any.
Are There Any Side Effects Of Coconut Milk?
Eating too much coconut milk can be detrimental to your health. Some of its side effects are:
1. High Blood Pressure
It can cause high blood pressure. The high-fat content of coconut milk can increase cholesterol levels, putting one at risk for cardiovascular issues and higher blood pressure. A cup of coconut milk has an amount of fat that averages around 55-60 grams, with the majority being saturated.
2. Allergies
It may lead to allergies. It is highly recommended that those with a sensitivity to tree nuts steer clear of ingesting coconut milk since this could lead to a possibly fatal event.
3. Weight Gain
If you are dieting and trying to shed some pounds, coconut milk might not be the best choice due to its high-fat content.
4. Constipation
Consuming copious quantities of coconut milk on a daily basis could possibly lead to digestive issues and difficulty having a bowel movement.
Coconut milk benefits are many. It is loaded with many beneficial nutrients. It can be beneficial for cardiovascular health, help manage diabetes, and assist in slimming down. Furthermore, this substance can be utilized to treat Alzheimer's, and stomach ulcers, and has anti-bacterial components. Coconut milk possesses the ability to give your skin hydration, heal moderate sun exposure, alleviate skin issues, scrub away dead cells, and erase makeup. It enhances hair growth and mends dry, damaged hair. It also acts as a natural conditioner and detangler. This milk can be prepared at home easily. It is possible to experiment with various recipes using coconut milk in order to reap its advantages. However, overconsumption may trigger negative effects. Hence, moderate intake is recommended. Consume coconut milk, implement it in your skin care regimen, and use it in your hair maintenance to gain all its benefits.