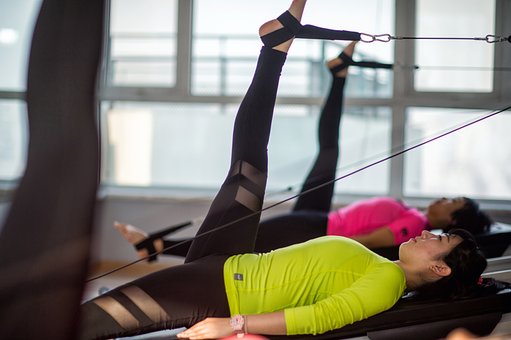 Boutique fitness businesses are definitely leading the pack in the fitness industry nowadays. Boutiques aimed at physical fitness have introduced creative ideas, appealing marketing, and, in certain cases, have made exercising a sign of prestige. It's clear that High Intensity Interval Training, a very popular type of specialized exercise, is ranked fifth on the American College of Sports Medicine's list of upcoming fitness fads for 2021. Now that home fitness and training are available online, boutique fitness is in a great spot to prosper, both during the current period where everything is strictly virtual and into the future if hybrid services become the norm.
The explanation for this is that boutique fitness usually consists of classes that involve exercising together in a group. This idea is simpler to transition to a virtual environment and is more suitable for a mixture of both online and offline courses. It was quite foreseeable that specialized fitness services like Barry's Bootcamp would be one of the first to shift to the internet when the Covid-19 crisis began in 2020. Investing in a boutique fitness franchise is still a good opportunity, particularly because of the gradual easing of restrictions in many areas of the globe.
At boutique fitness centers, memberships typically cost more than at other types of gyms, and you're expected to commit more to your membership than at a less expensive gym. A high membership fee can result in great benefits as long as you are willing to put in the effort to provide the quality that it merits. It is essential that you abide by the guidebook provided to you by the franchisor.
By investing in the right small shop concept in an area that is becoming more popular, you can put money into a promising company that could have immense possibilities to expand. Popular activities like indoor cycling and High-Intensity Interval Training (HIIT) remain very successful. This article explores the current trends in the boutique fitness franchise industry and nine viable investment opportunities for 2020.
What is a boutique fitness franchise?
Boutique fitness studios tend to be more compact compared to regular gyms, and usually focus on a particular form of physical activity or a couple of different ones. Examples include indoor rowing, cycling, HIIT, yoga, and boxing.
In recent times, there has been a rise in the number of boutique gyms due to the connected atmosphere that they offer, as well as the satisfaction that members experience whenever they have a successful workout session.
Because of their small footprint, these studios can be situated in almost any spot.
Franchises give entrepreneurs the opportunity to broaden rapidly without investing their own money; this gives them access to a variety of extra activities and items from diverse fitness companies.
Why invest in a boutique fitness franchise? 
Choosing to purchase a small-scale health and fitness franchise can be an advantageous move, regardless if you are an individual just beginning with franchising or a business owner hoping to broaden their portfolio. Here are three compelling reasons why:
Health is a bigger priority than ever 
The pandemic has highlighted the significance of good health to us. When you are physically active and maintain a healthy weight, the chances of developing heart disease, obesity, and diabetes greatly decrease – that is due to consistent exercise, eating a balanced diet, and maintaining an optimal weight. Governments provided strong advice to the public about taking care of their health last year, and evidently, people are increasingly following those suggestions.
Andy Peat, Lift Brands Inc.'s Chief Product Officer, has a distinct outlook on how franchises are adapting to a changed fitness sector. Andy discusses attaining the highest level in a major chain and how SNAP Fitness and 9Round managed to stay afloat during the coronavirus pandemic.
The ever-increasing demand to get the best experience
Boutique fitness is not just about engaging in physical activity, but about giving its members a superior experience. There is more to boutique fitness than just exercise, with a number of luxuries, knowledgeable instructors, and an enjoyable ambiance. The whole experience of being a member of the gym includes different contact points that create the overall fitness center experience, which has become even more meaningful during this period of not being socially connected. In order to satisfy their requirements and desires, you must provide your customers with a thorough and satisfying experience each time they come.
Adam Zeitsiff, the Head of Intelivideo, appears on The Fitness Founders Podcast to discuss effective strategies for fitness facilities to craft a successful hybrid experience. He mentions how franchising can give franchise owners the advantage of a combined business scheme and personalized strategies to outdo their rivals.
Disruptive innovation sparks curiosity 
Boutique fitness companies are frequently pushing the restrictions of the sector, blending innovation and science to make remarkable exercise sessions. Consumers are now much more enthusiastic about seeking out simpler methods of working out while being certain that they get noticed results – that is why Orangetheory Fitness has implemented heart rate monitors in their program. This new and inventive way of doing fitness has made workouts more exciting than ever. The creativity of boutique fitness companies in terms of how health and wellness are approached is driving people to become increasingly passionate about it.
Best Boutique Fitness Franchises to Invest in 2023 
In case you are exploring your alternatives as well as considering investing in a boutique fitness franchise, there is a broad range of specific markets and labels to pick from.
It is essential to consider the advantages and disadvantages before taking any step because each franchise has different charges and demands.
It is good that there are many different price options to suit people's different financial situations, enthusiasm levels, or capabilities. Here are 12 top-tier boutiques franchises perfect for 2023!
Anytime Fitness
Anytime Fitness is a major player in the fitness sector, aiming to boost people's confidence worldwide. It's easy to see why they do so well – they stay open 24/7 across 4,000 sites in 50 different nations around the world, spread across all seven continents!
From its base in Woodbury, Minnesota, the most popular coed gym franchise has over four million members and is continuing to grow.
The highest priority for both members and staff at Anytime Fitness is a pleasant and stimulating environment. In addition to regular workouts, patrons are able to attend yoga lessons, spin cycling lessons, individual coaching appointments, as well as Zumba dance routines.
In 2020, Anytime Fitness was placed 19th on the Entrepreneur's Franchise 500 list for Top Growth, offering aspiring franchisees an appealing opportunity to start their business without a large investment but with potential for high rewards.
An incentive to join Anytime Fitness as a franchisee is available, with a set up cost ranging from $3,150 up to $42,500, and a total required investment between $381,575 to $783,897.
The money required consists of a minimum of $175,000 in liquid assets and a net worth close to the usual $350,000 for the field. Moreover, level recurring royalty payments and promotion expenditures make it simple to arrange your expenses properly.
Planet Fitness
Founded by brothers Michael and Marc Grondahl back in 1992, Planet Fitness has experienced astonishing success and has now situated its main office in Hampton, New Hampshire.
This business is rapidly expanding and has over 2000 establishments in North America, Canada, Australia, and Latin America.
Start your own Planet Fitness business with an initial cost of only $20,000 and a combined expense between $1 million and an astronomical $4.1 million!
You can also benefit from 7% in royalties from the overall gross payments and changeable advertising costs.
Unfortunately, applications to expand US franchises are temporarily suspended, however aspiring entrepreneurs could still reap great financial rewards by owning a Planet Franchise.
Pure Barre
Pure Barre, a workout franchise based on 'barre' exercises, is the most popular of its kind all over the continent, beginning with a single studio opened by Carrie Rezabek Dorr in the year 2001.
It is clear why this combination of ballet and yoga, which has over 500 studios and 555,000 customers all over the world, is quickly expanding into Germany and Austria. At present, there are 760 locations around the globe where individuals can tap into their inner dancers!
Pure Barre focuses on improving lives with affordable, high-quality class sessions that prioritize education and a sense of togetherness.
They include strength, cardiovascular, and flexibility exercises in their physical activity regimens. Pure Barre is renowned for its accomplishments and has recently been ranked 222nd in Entrepreneur Magazine's Franchise 500 List, which showcases it as the foremost barre franchise in all of North America.
People who are eager for an enthralling endeavor have the option of owning a Pure Barre franchise. At the start, the cost is $60,000. The whole outlay ranges from $198,650 to $446,250.
TRIB3
TRIB3 stands out by its HIIT group exercise regimen and powerful sense of camaraderie.
Individuals can have an extreme workout experience in luxurious industrial surroundings with the premier tools available, a successful boutique gym idea, and internationally recognized marketing.
The organization has grown to encompass many nations around the world, like the United Kingdom, Spain, Russia, and Finland, with more international places to come!
Burn Boot Camp
Burn Boot Camp's exercise organization utilizes 45-minute strength and cardiovascular exercises to alter people's lives. There are more than 400 franchisees in the group that was established in 2012 and continues to expand. They desire to give authority to assertive women so they can alter their circumstances. A small outlay is needed, an unclosed layout, and complete backing from Burn Company's headquarters. Burn Boot Camp has consistently made it to Entrepreneur's Franchise 500 rankings for three years in a row, being represented at the #90 spot this year of 2021. It's a sought-after boutique franchise concept. You require liquid capital of no less than $150,000 and a total net worth of $300,000 or higher to put resources into something.
CycleBar
CycleBar is at the forefront of indoor cycling-based fitness franchises. It's for all ages and body types. This company provides an unparalleled indoor bike riding experience, with instructors or CycleStars that can encourage, motivate, and help you reach the objectives you have established. Think nightclub meets indoor cycling. CycleBar focuses on fostering a sense of community in order to support riders inside and outside their studio. This company has more than 250 stores operating and an expanding, committed fan-base. To begin with, a capital outlay between $346,910 and $487,910 is required.
The Bar Method
The Bar Method studio offers an all-over workout routine. It's designed to strengthen and sculpt using low-impact movements. This exercise program was created in a distinctive manner by physical therapists. This strategy is beneficial for a lot of learners, even those with physical impairments. The initial cost of owning a franchise depends on the studio's location and size. The expense of establishing a Bar Method studio usually lies somewhere in the range of two hundred eighteen thousand nine hundred and sixty-four dollars to four hundred twenty-seven thousand four hundred and five dollars.
STRIDE Fitness
Xponential Fitness, a leader in boutique fitness, supports the STRIDE Fitness approach which uses interval training on a treadmill. This brand provides an exercise regimen suitable for all fitness levels, in order to make an environment open to everyone, regardless of their experience as a jogger. A captivating program directed by energetic approved trainers that use heart-rate tracking technology, STRIDE provides three signature class forms including interval, concentration-focused and force preparation. At present, the franchise can be found in ten states with almost one hundred spots and it is still expanding. The total investment cost is between $372,412 – $533,512.
The Row House
The Row House provides a full-body exercise routine which doesn't put strain on the body, and which is focused solely on indoor rowing. The key is to create a captivating environment with a shadowy ambiance and loud music. Everyone works together in harmony to create an enjoyable and united group experience. Keep a record of the outcome of each exercise session and utilize the Row House app to remain focused. This well-known indoor rowing company has a presence in more than 300 different places situated throughout 24 US states. The initial cost to get started is between two hundred forty-seven thousand, one hundred sixteen and four hundred eighty-three thousand, three hundred sixteen dollars.
9Round
9Round explores the area of kickboxing within the specialty fitness industry. It provides an engaging and enjoyable experience for members that has been proven to be successful. This program takes elements from kickboxing and combines them with a mix of circuit, aerobic, interval, and practical exercises. They accept people of all skill levels and foster a sense of belonging. 9Round incorporates heart rate monitoring in order to help its members become stronger, and to make the most out of their exercise sessions. There are no designated class times at 9Round; it differs from other fitness programs in this way. Upon arriving, a trainer will meet you and provide direction on what to do. It takes 30 minutes to go through all nine stops. The average investment ranges from $79,175 to $163,275.
Orangetheory Fitness
Orangetheory Fitness is a renowned brand in the realm of physical fitness. The boutique fitness studio was founded in 2010. By employing Splat Points, the brand helps members to keep burning calories even when they are done with their exercise. At present, there are more than 1,300 sites globally. Orangetheory is continuing to be the frontrunner in the boutique fitness sphere, having a steadily increasing and deeply faithful band of devotees. It employs advanced technology and comprehensive training to give members an amazing experience. Orangetheory requires a total investment of $488,405 to $994,360.
In Summary
If you're thinking of buying into a fitness franchise, boutique exercise provides an incredible opportunity. Innovative fitness companies are pioneering a fresh and stimulating way of entering the fitness world. A variety of boutique fitness brands specialize in providing unique exercise experiences, such as interior rowing, HIIT exercises, and kickboxing-influenced training.
As fascination with wellbeing and physical fitness becomes increasingly apparent, businessmen can benefit by investing in one of the leading special exercise center franchisors. It is necessary that you line up your aptitudes and desires to a fitness-focused business idea that grows and modifies to satisfy changing consumer needs and requests.