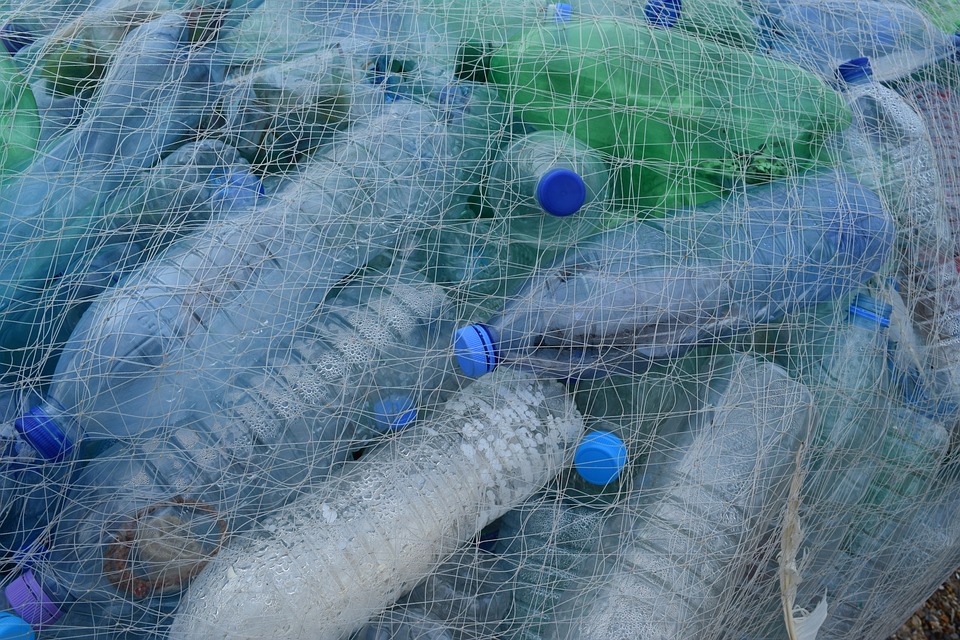 The Growing Problem of Plastic in the Ocean
We all encounter plastic every day. I would guess that it would be almost impossible to go a single day without encountering plastic in some form. It is used in everything from clothing to automobile interiors to computers and phones. The massive use of plastic is having negative effects on our planet.
Some sobering stats on the plastic problem:
Last year, just one of the major soda companies created over 110 billion plastic bottles worldwide.

There are an estimated 5+ trillion pieces of plastic floating in our oceans, weighing over 300,000 tons.

Surfers Against Sewage reports that the world produced 1.5 million tons a year of plastic in 1950, and now we produce over 320 million tons a year. And this number is set to double by 2034.
According to Vox.com, just some of the consequences we face due to growing plastic use are:
Over 100,000 marine mammals and 1 million sea birds die each year.

Two-thirds of fish species suffer from plastic ingestion and by 2050 there will be more plastic than fish in the ocean.

5 massive garbage patch plastic islands have formed in the oceans, including one between Hawaii and California that is as big as Texas!

This plastic is also increasing the acidification of the ocean and drastically increasing the chances of coral getting sick.
Recycling Isn't the Answer
Plastic is designed to last a really long time. This means it can take up to 1,000 years to fully break down, and when it does break down it releases harmful compounds. Recycling is often presented as the solution, but it isn't a complete or even viable answer for several reasons:
Only a small percentage of the world's plastic is even recycled.

When it is, it costs thousands of dollars to recycle and the newly recycled plastic can't even be sold for as much as it costs to recycle it.

We're producing more plastic than we can possibly recycle and more types that can be easily sorted, which makes the process slow and inefficient.

Most plastic is recycled into unusable forms that can only be made into park benches and rugs but not bottles, so more plastic is still being created.
In other words, recycling may be beneficial, but it does not solve the problem of excessive plastic usage. We should focus on reducing our plastic use instead of using other methods to reduce pollution.
The Worst Offenders
The plastic problem is one where individuals are to blame, not the companies. An article from Scientific American in January 2018 discusses how companies who see increased profit margins have lobbied to keep using these products.
In other words, these companies have not wanted to do things like charge a five-cent deposit on plastic or glass bottles, even though that would cause people to recycle more. At the same time that corporations are spending millions on ad campaigns like "Keep America Beautiful" and "I Want to be Recycled," we as individuals can do little to combat the overuse of plastic. These campaigns make us feel like we are doing something beneficial for the environment when in reality our efforts have little impact.
If a state or city enacts a law that charges people extra for using plastic bags or bottles, that state or city will see an 80% reduction in the use of those products. We could even ban or create an opt-in-only policy on single-use products like styrofoam and plastic straws. This would mean that people would have to specifically request these items, rather than them being given out automatically. The problem is so widespread that it might require legislation to fix it, but I'd also like to consider what we can all do individually, without the need for laws and regulations.
What We Can All Do to Reduce Single-Use Plastics
1. Recycle when possible (and do it properly)
If you recycle whenever you can, you will be helping the planet by preventing plastics from being sent to landfills. Of course, recycling systems aren't perfect, but recycling is still more productive than throwing everything in the same bin.
Different countries have different recycling systems and rules, but here are three rules that generally can be followed no matter where you are:
Recycle clean bottles, cans, paper, and cardboard.

Don't put food or liquids in your recycling.

No loose plastic bags or recycled goods should be placed in plastic bags.
2. Avoid single-use plastics
Single-use plastic items are a huge problem when it comes to plastic pollution. It may be more difficult to avoid them than you realize, but recognizing how often they appear in your daily life is a good place to start.
Some examples of single-use plastic that you might see every day are plastic-wrapped vegetables in the grocery store, wet wipes, cotton swabs, plastic utensils, coffee cups, straws, and sanitary products like pads and tampons. Another common example is plastic packaging for cigarettes. If you are looking for alternatives, there are plenty of them.
3. Use alternative packaging 
If you own a small business, it can really make a difference if you look for green packaging options. If you own a cafe or have a small business on Etsy, you could try using more sustainable packaging options, such as paper and cardboard.
There are times when we need packaging that is similar to plastic in order to protect products, especially when it comes to food. Bioplastics are made from renewable materials that come from plants or other biological sources. They have the potential to degrade more quickly than traditional plastics.
4. Do a trash audit
A trash audit is simply analyzing your trash and seeing what you throw away most often. Oftentimes, we dispose of things without a second thought, so this is a great way of understanding exactly how much waste we produce. A trash audit is a way to figure out what items we get rid of the most so that we can find substitutes for them.
You can tell it's time to buy a reusable cup when you find a lot of coffee cups in the trash. Next time you buy a lot of chips, find out if the packaging is recyclable. Terracycle is a company that helps you recycle crisp packets.
5. Find reusable options 
Using reusable items instead of single-use items is the best way to reduce your use of single-use plastics. You don't need to use bamboo utensils, even regular metal utensils or an old plastic water bottle will work.
6. Grow your own food
As we mentioned earlier, many vegetables and fruits are covered in plastic at the supermarket. The best way to avoid this problem is to learn how to grow your own food.
7. Buy from local markets and low-waste shops
If you aren't able to grow your own food, purchase food from local markets or stores that have little food waste. Which is cheaper for you—buying from markets or supermarkets—varies depending on the country you live in, so it's a good idea to research this beforehand.
While low-waste shops are more expensive, they can be a great option for groceries such as dried pasta, rice, beans, and nuts. When you go to this store, you usually bring your own containers with you and fill them as needed. This creates no waste!
8. Bake your own bread
Have you ever thought about growing your own food? Well, why not also try baking your own bread and other baked goods. Having your own sourdough starter is not only a fun and rewarding activity, but it will also reduce the amount of plastic-wrapped baked goods and bread that you buy at the store.
9. Make your own cleaning and cosmetic products in jars
If you're finding yourself constantly buying new cleaning and cosmetic products, you should know that many of them use simple ingredients that can be made at home. Not only can reducing your use of plastic be beneficial for the environment, it can also reduce your exposure to harmful chemicals.
Alternatively, you might want to buy products in bar form or in metal packaging – but we thought we'd demonstrate just how simple it is to make some products below:
All-purpose cleaner
One part white vinegar

One part water

Lemon juice

Rosemary sprigs
Deodorant
2 tbsp coconut oil

4 tbsp cornflour

4 tbsp baking soda

Essential oils of your choice
10. Switch up your laundry routine
There are many ways to make your laundry routine more eco-friendly and plastic-free. To reduce waste, look for a detergent that comes in a reusable container or without packaging. An alternative to regular laundry detergent that is both eco-friendly and gentle on clothing is a laundry egg. These eggs are made of recyclable materials and contain pellets that clean clothes without the use of harsh chemicals or plastics. What's not to like?
Consider making a homemade stain remover and buying a microfibre washing bag to prevent microplastics from shedding off your clothes, in addition to using detergent. Washing clothes in cold water will help them last longer and prevent plastic waste from clothing. This will also reduce your carbon footprint.
11. Say no to extras when ordering a takeaway
You may not think of this as a fix initially because it is so simple. Be sure to say you don't want any extra utensils when you order takeout. You can even write a note asking them to use less plastic.
Other than this, it's ideal to save takeaways for exceptional events if you can. There is a lot of waste created from the packaging when you order food to be delivered as opposed to cooking or going out to eat.
12. Choose clothes made from sustainable or recycled materials
In our blog discussing how sustainable the fashion industry is, we bring up how fast fashion is one of the biggest polluters in the world. Many clothes from fast fashion brands are made from plastics, including polyester, nylon, and acrylic.
This means that when a lot of clothes are thrown away after being worn only a few times, they take many years to break down. If you want to buy new clothes, choose garments made from sustainable or recycled materials.
13. Shop in bulk
Shopping in bulk means buying all the essentials you need in one large trip, instead of buying smaller quantities of ingredients more often. Shopping in this way can save you money and reduce your use of packaging and single-use plastics.
14. Stop buying water
When you feel thirsty, it is very easy to buy a bottle of water. We know that your health and staying hydrated are very important. In the United Kingdom, we throw away 7.7 billion plastic water bottles each year, even though tap water is perfectly safe to drink.
The best way to avoid buying a plastic water bottle is to bring a refillable water bottle with you at all times. If you forget to fill your reusable coffee cup before leaving most cafes, they will be happy to fill it up for you. You can have a big impact by doing very little in this area.
15. Buy second-hand items
Sometimes, you need to buy plastic items. There are so many things made out of plastic that it's hard to stay away from it. If you need to buy items, you may want to consider buying them second-hand. Whether you look in charity shops or on eBay, you can often find pre-loved items that you can adopt.
16. Upcycle old plastic things
Have you ever heard of upcycling? If not, take note. Upcycling is the process of revamping old items to make them more appealing or useful. One way to reduce waste and save money is to revitalize old plastic items or clothing garments instead of buying new ones.
17. Avoid microplastics
Microplastics are small pieces of plastic debris that are less than 5 mm in length. Microplastics are a big problem, especially in our oceans. Fish will often unknowingly consume microplastics.
Microbeads are banned in the UK, but not everywhere else. You can find them in lots of health, beauty, and cleaning products. Microfibers come from clothing and other soft furnishings. Therefore, it is beneficial to purchase fabric that is free of plastic.
18. Put pressure on manufacturers
We discussed how it is important for governments and manufacturers to make a difference in plastic use and plastic waste earlier. However, if you spend your money wisely it will put pressure on manufacturers.
If manufacturers see that fewer people are buying from them because of their attitudes to plastics, this is a vote of confidence and they are likely to make positive changes.
19. Hold a town or beach clean
There are many practical ways to prevent the spread of plastic pollution, and one of them is to participate in a local clean-up. :: There are often beach cleanups happening that you can join if you live near the ocean.
You don't have to wait for an organized event. Bring a garbage bag with you to your town center, beach, park, or local beauty spot, and collect all the litter. You may even find something valuable if you're lucky.
20. Speak up at work or university
Be an inspiration to others. You can make a difference in your community by encouraging your friends and family to adopt healthier lifestyles. You can help reduce plastic waste without being preachy by simply discussing the facts, providing useful information, and offering practical and simple solutions.