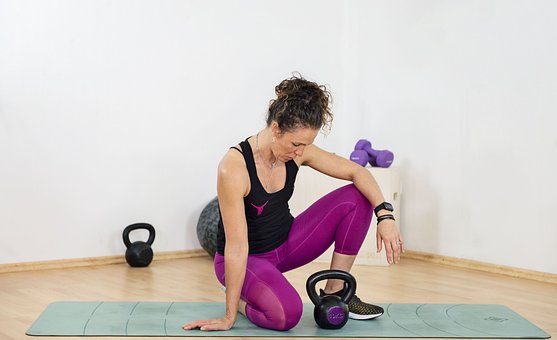 As a stay-at-home mom, it can be difficult to find the time and energy for exercise. After all, between the kids, the household chores, and all the other many tasks on your to-do list, it can feel overwhelming to try and fit in your own needs. So what is the best stay at home mom workout schedule?
The most effective routine for a mom who is staying at home will incorporate walking a half-hour each day for five days during the week and doing some form of strength training two or three days using weights, exercise machines, or elastic bands. Working out in company of your pals can be enjoyable, and they can make you stay committed.
Do your best to establish a fixed routine for yourself so that it becomes a part of your regular habit. Adjust the amount of time you spend on it to accommodate other obligations. Remember that ANY exercise is better than none.
With an organized plan of action, it won't be long before you have a successful workout regimen that fits into your regular day-to-day activities.
Regardless of your experience in exercising, this guide can give you guidance on fitting physical activity into your daily routine and finding exercises fit for moms who have limited time available. We will talk about how to remain devoted to the plan to gain the greatest benefit while still having a pleasant home life with your family.
Do not fear if you cannot find the time for a rapid workout – let's get going!
How Do Stay-at-Home Moms Find Time for Exercise?
It is essential that you allocate time for activity and plan out an exercise regimen that fits with your daily agenda to ensure you reap optimal benefits from your workout. The life of a stay-at-home mother is ever-shifting, with a plethora of priorities and a seemingly interminable list of tasks that need to be accomplished.
Be sure to carve out some time for yourself and don't be apologetic for it. You will not be able to give your full attention to all your other obligations if you continually neglect your own well-being.
Here are some tips on how to make time for exercise:
Giving importance to physical exercise is essential if you want to find time for workouts. Begin by formulating achievable ambitions and aims such as dedicating yourself to half an hour of physical activity on three occasions weekly, or escalating your time frame to one hour every other day. This will encourage you to stay determined and responsible for the duration of the task.
Formulate a workout plan after deciding on your objectives. Consider what time frame fits best with you and your family's routine. If mornings are more favorable than evenings, consider getting up before anyone else does or take advantage of lunch breaks or any other tranquil moments during the day. You can also make use of some quality time with your relatives and friends by working out together whenever you can.
Take advantage of your lunch breaks and free moments in your day to get a workout in. This could be anything from walking around the neighborhood to doing some stretching exercises in the comfort of your own home. Include a rest day in your fitness routine so that you can give both your mind and body a break, which will help you get the most out of your exercise sessions.
Key Takeaway: Creating a workout schedule that fits into your day is key to staying motivated and getting the most out of physical activity. Prioritize exercise, set realistic goals, utilize lunch breaks & quiet times, and allow yourself rest days for maximum results.
What Are the Best Workout Routines for Busy Moms?
It can be a challenge to make time and have the energy for physical activity when you are managing a job, caring for a family, and accommodating other obligations. Nonetheless, staying active is an indispensable aspect of a good quality of life. Discovering exercises that suit your daily routine can facilitate keeping in shape to be easier and more pleasant.
Low-Impact Exercises for Busy Moms
Exercises that put minimal strain on the body are perfect for mothers who are always on the go and want to keep fit.
Taking a stroll or a jog around the area while pushing a baby carriage is a fab way to get much-needed ventilation while also increasing your heart rate.
If you have access to a swimming pool, you can use swimming laps as a low-impact exercise to help benefit your heart without putting strain on your joints. Mothers who are always on the go can take advantage of yoga classes, as they provide both physical and mental gains in a single session.
Quick Workouts to Fit into Your Day
If you don't have a lot of time on your hands but still want to get in some physical activity throughout your day, there are several brief workout routines that can fit into even the most hectic agenda.
HIIT is an athletic training regime that consists of brief moments of maximum intensity work interspersed with intervals of rest, permitting one to complete a successful workout in around twenty minutes or less.
You don't need any equipment for bodyweight exercises like squats, lunges, pushups, and crunches, so doing them is a breeze – at home or even in the office if you have a private room.
Incorporating Fun Activities into Your Routine
Physical activity does not always have to be difficult- adding enjoyable pursuits into your habitual program of exercise will help add variety and make the experience enjoyable, while also supplying lots of health advantages.
Going dancing is an effective cardiovascular exercise that gives you the opportunity to be creative while working up a sweat; look for local classes or make your own routine using YouTube videos if classes are not easily accessible.
Even a simple dance session with your children each day can be beneficial!
Interacting with family and peers through sports is an exceptional option not simply to remain active, but also to invest good quality time with each other; try joining a grownup soccer organization or go to a local park on weekends to shoot some hoops.
Best Fat Burning Workouts
1. Full Body Fat Burning HIIT Workout
Rev up your heart rate by doing this exercise program. You will have to push your body to its limit to scorch fat quickly with this high-intensity interval training.
2. Most Powerful Back Fat Burning Workout
This selection of effective workout routines targets eliminating fat from your back. It eliminates the shakes, giving you a stronger, thinner shape.
3. One Song Workout
It's more fun to do workouts with music. Try burning calories by listening to your favorite songs! Create an energizing soundtrack and you're certain to get into shape quickly.
This song is an example. You can create your own high-energy, calorie-burning workout program by using a fast-paced song.
4. Bodycombat
This exercise program promises to burn more than 700 calories in one session. If you're looking to improve your physical fitness using mixed-martial-arts techniques, give it a shot and you'll be sure to achieve your fitness goals.
5. Dumbbell Blast
Reveal a leaner, fitter you with this dumbbell-assisted workout. It is advisable to do a brief warm-up prior to beginning this workout. Begin with doing 10 repetitions and progress up to 15 as you become more proficient.
6. Winter Shape-Up Workout 1
This is the first workout in a series. It features a combination of HIIT and strength training workouts that will surely burn those fats right before the seasons change.
7. Fat-Frying Kettlebell Workout From Hell
It is said that this fat-burning exercise for men is the most difficult for shedding stomach fat. You must continuously swing and hoist a heavy kettlebell for a minimum of thirty minutes. The combination of exercises is meant to give your metabolism a boost and help you get rid of stubborn body fat. Not for the fainthearted.
8. Bikini Body High-Intensity Workout
Be prepared to go to the shore with your beach-ready figure for the summer. This strenuous exercise routine claims to firm and shape your body while simultaneously shedding excess fat so you can be a thinner version of yourself.
9. 30-Minute Fat Burning Yoga Workout
Yoga can be a very powerful workout for fat burning. This is an excellent starting point for those who are new and trying to slim down and sculpt their bodies. The poses are low impact. Shape your physique by following the exercises in this workout program.
10. Busy Mom's 15-Minute Workout
Busy moms need to reserve time for working out, particularly if they have not yet shed their pregnancy pounds. Caring for small children makes it hard to follow an intensive exercise program. It is simple to stay in shape with this fast-acting, calorie-burning exercise for women that can fit into even the busiest of schedules.
11. The Ultimate Park Bench Workout For Busy Mamas On The Go
We've mentioned busy mothers. An inventive approach to utilizing items in your vicinity to support you in attaining your fitness objectives. This is the ideal exercise for individuals who don't have the chance to visit the gym but still don't want to overlook their workout session. Taking a walk in the park during mealtime is an ideal way to burn off calories.
12. Bear Crawl
This type of bear crawl activates both the hip flexor and the psoas muscle. Anticipate performing a total-body workout when you complete this program. It reduces fat twice as quickly as other exercises.
13. Dumbbell Goblet Squat
This exercise offers all the advantages of a traditional squat to help you lose fat, but it won't put a strain on your back. Keeping a dumbbell in front of your body allows for a more erect posture for your spine, which will help you perform the action with better form.
14. The Plank
With the plank, belly fat doesn't stand a chance. Doing crunches may not be the best way to get flat abs and burn fat; a more effective approach would be to use something that can help you better in those pursuits. You need to have stamina in order to burn fat quicker with this move. You only need to hold this position for at least 10 minutes several times a week and the amazing results are yours to reap and flaunt.
15. Jump Rope Workout
Workouts need not be somber affairs. Incorporate some joy into your workout by incorporating skipping with a rope. This physical activity only needs a few seconds to activate your body to start burning fat faster. It is recommended to buy a high-quality jump rope rather than just a regular rope for this activity, as it will be more durable and can be used for a longer period.
16. Outdoor 4-Minute Fat Blaster
Go outside to do this workout which is sure to lead to weight loss. You only need a stopwatch or any interval timer to use the equipment. Pick an area that is both secure and pleasant and you're ready to go.
17. Jackknife Sit Ups
When performing this exercise, different muscle groups will be worked. This exercise facilitates fast fat burning, as well as providing a strenuous workout for your arms and legs.
18. 20-Minute Plyo Burn
High-intensity moves meet circuit training in this engaging workout. Ensure you have a towel available as you are certain to perspire while performing this workout.
19. Do Anywhere Kickboxing Workout
Shape up and get ready for a fight with this kickboxing exercise routine. It burns fat by combining aerobic exercise and strength training. This activity provides a range of activities to make it enjoyable and an effective way to reduce weight and stay in shape. And the best part? You can do it anywhere.
20. 25-Minute Vacation Workout
When people are on vacation, it is common for them to neglect their dedication to physical fitness. Not anymore with this convenient workout. This gives you the capacity to stay focused on your objectives without the necessity of locating a gym while traveling.
Conclusion
It is essential to keep in mind that a plan for exercising while being a stay-at-home mom cannot be established and then disregarded.
It takes intense application, self-control, and determination to make it successful. Having a set game plan can assist you in carving out time for exercise, even with your bustling timetable as a stay-at-home parent. Attempting a variety of approaches and assessing how successful they are is the key to finding an exercise regimen that works for your lifestyle and provides the best results. You won't need to abandon quality time with your family or forgo much-needed rest days to make it happen.
Being a SAHM can be incredibly rewarding despite the sacrifices it requires. But unless you focus on your own well-being, it's impossible to attend to the needs of others. So finding balance is the key!
Find out how to put together a useful scheme that is appropriate for your way of life right now!