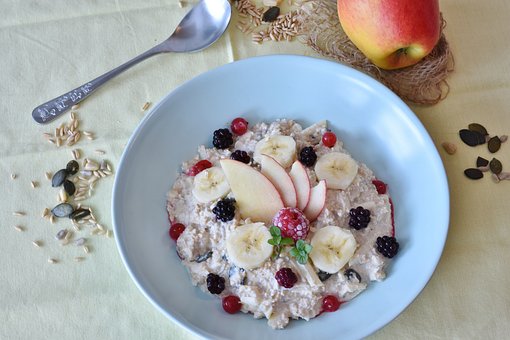 If you've ever skimped on sleep or been stressed out at work, you may find that your energy levels tank as well. This is because sleep and stress management are foundational to feeling and performing your best. However, what you eat is also intimately connected with energy levels, since food immediately impacts how we feel.
While carbs or coffee might be two of your go-to's for a quick energy boost, they aren't the best for sustaining your levels throughout the day. In fact, overdoing either can actually increase fatigue and interfere with sleep.
So what are the best foods for energy? We asked eight Registered Dietitians for their top energy-boosting food recommendations to help you stay alert, focused, and productive throughout the day. Here's what they had to say.
Hemp Seeds
Mild in flavor and easy to sprinkle on just about anything, hemp seeds offer an incredible source of nutrients, including protein, fiber, omega-3s, and numerous minerals (like magnesium, zinc, iron, copper, and B vitamins) that support energy production and metabolism.
Dietitian and Elo Health Coach,
Kelly Magill
, believes their micronutrients hold much of their energy magic.
Magnesium is one of the main macro-minerals present in hemp seeds, which Magills says is a cofactor that generates cellular energy. Furthermore, magnesium helps regulate neurotransmitters that promote better sleep, which we all know is crucial for energy levels.
Since two tablespoons of hemp seeds provide 75% of your daily recommended value of magnesium, Magill suggests blending them into a smoothie, sprinkling them on top of your oatmeal, or mixing them into a salad.
Whole Grain Breakfast Cereal
While we're on the topic of breakfast, whole-grain breakfast cereal shouldn't be overlooked. It's quick and convenient, packed with nutrients, and can be a great source of lasting energy, especially when paired with protein (like soy or dairy milk) and a sprinkle of nuts or seeds for healthy fats.
"Most whole grain breakfast cereals (think bran flakes, Cheerios, or even Special K) are fortified with B vitamins —specifically B12, Riboflavin, and Thiamine. These B vitamins help convert carbohydrates into glucose, which gives us energy," says Yates.
"Additionally, the fiber found in whole grain cereals helps slow the absorption of carbohydrates, avoiding a steep blood sugar spike. This decreases the likelihood of a sugar crash and provides us with long-lasting, consistent energy," she adds.
When buying whole-grain breakfast cereal, look for options made from 100% whole grain that contain at least 4 grams of fiber and fewer than 6 grams of added sugar per serving.
Nutritional Yeast
Nutritional yeast, also known as "nooch," is loaded with umami goodness and is commonly used in vegan cooking. True to its name, nutritional yeast is also loaded with nutrients, making it an energy-boosting essential for Elo Dietitian and health coach,
Alayna Hutchinson
.
According to Hutchinson, "This nutty-tasting vegan yeast contains high levels of B vitamins, including B-12, folate, riboflavin, thiamine, and B6, which are all essential for metabolic reactions in the body. In addition, nutritional yeast contains all nine essential amino acids, making it a complete protein akin to animal proteins."
Beef Liver
Despite having fallen out of favor in recent decades, beef liver is one of the most nutritionally dense foods on the planet. In fact, it's one of the factors that led to the discovery of vitamin B12 and was used to treat nutrient deficiencies.
"Beef liver is at the top of the list for superfoods," Magill tells us. "It's a powerhouse of vitamins and minerals, specifically vitamin B12, iron, copper, magnesium, and other B vitamins. These nutrients help your body turn the food you eat into usable energy and help to prevent anemia, provide sufficient oxygen, and support physical stamina."
Brown Rice
You might be taken back to find rice on the list, however, it provides a good volume of minerals, dietary fiber, and vitamins. In contrast to white rice, brown rice is less refined, so it contains more nutrients. Brown rice has a low glycemic index due to the fibers it contains, enabling people to maintain steady energy levels all day long since it helps to control blood sugar levels.
Fatty Fish
You may not enjoy eating fatty fish, but it does provide an excellent source of important nutrients like protein, B vitamins, and fatty acids. Consuming tuna or salmon can be an excellent way to get energizing fuel into your diet. Moreover, fatty fish has been proven to reduce fatigue.
The omega-3 fatty acids in the body combat inflammation, a typical cause of tiredness, which accounts for this. As well as this, vitamin B12 combines with folate to produce red blood cells and assists iron in the body more effectively leading to an increase in energy.
Bananas
Bananas are widely recognized as great energy boosters. These fruits are packed with vitamin B6, potassium, and carbohydrates, making them the ideal source of energy.
A single banana can offer the same benefits to an athlete as using a carbohydrate drink prior to another contest. Imagine how useful they can be to non-athletes.
Water
You might think water is quite commonplace, so it's likely you are curious as to why it is included among other energizing foods. Oxygen is very important for the functioning of life and has a necessary role in many cell activities, including energy production.
Consuming water, particularly when you wake up, has been shown to help fight tiredness and give you an increase in energy. In addition, make sure to keep up hydrated by drinking water consistently, even if you don't feel the need to. This will help you avoid dehydration.
Eggs
Any way you eat them, eggs offer a protein-dense boost of energy. They do not result in a sudden concentration of sugar levels and the production of insulin when ingested, which makes them a reliable and long-term supply of energy.
Eggs contain plentiful amounts of B vitamins, which enable enzymes to execute their respective functions properly and convert food into energy efficiently. Besides, leucine, recognized for its capability to energize in various forms, is the most extensive amino acid located in eggs.
Yogurt
Yogurt contains both protein and carbohydrates, which make it the perfect nourishment for a daytime pick-me-up snack. The energy that it provides will help you stay energized throughout the day. Yogurt contains carbohydrates which are mostly the quick-acting types, such as lactose and galactose, that can easily be broken down to offer an instantly available energy source.
Proteins, in contrast, retard the breakdown of carbohydrates and the discharge of sugars into the bloodstream. Vitamins B2 and B12 assist in the production of ATP, which provides the energy that powers your cells.
Edamame
Edamame is perhaps your perfect snack. This food has a good nutrient profile, being low in calories yet possessing a high amount of protein, carbs, fiber, vitamins, and minerals. Folic acid aids in the reduction of exhaustion and helps thwart anemia while also providing energy. It works in conjunction with iron to achieve these goals.
Manganese also helps with the digestion of carbohydrates and proteins, allowing your body to make use of the energy they contain. Furthermore, edamame contains a large amount of molybdenum, a substance that activates enzymes and helps split down nutrients to use as energy.
Dark Chocolate
Dark chocolate stands apart from milk or regular chocolate due to its high cocoa content and abundance of antioxidants. It has been demonstrated that these antioxidants can elevate circulation throughout the body and also provide other health perks.
An increase in the circulation of blood can result in an elevated emotional state and a decrease in mental exhaustion. Oxygen is transported to the brain and muscles which aids in increased performance during physical activity. Dark chocolate also contains caffeine and theobromine. These stimulatory compounds enhance mental energy and mood.
Nuts
Nuts are a nutritious snack that can give you an energy boost. Nuts such as cashews, almonds, and walnuts contain a hefty amount of calories and various nutrients including carbohydrates, proteins, and healthy fats, so they can provide you with sustained energy during your day.
Apples
Apples, probably the most common fruit around the globe, offer high amounts of both dietary fiber and carbohydrates. The saying "An apple a day keeps the doctor away" is certainly correct. The fiber and sugar content of apples can keep you energized for longer.
Moreover, their rich antioxidant levels help to slow down the rate at which carbohydrates are broken down, providing energy for a longer time. It is wise to consume apples as a whole because that way you can get energy faster due to the juices and purees being taken in quickly.
Watermelon
Similar to how water can keep someone from becoming dehydrated, eating watermelon (which is largely composed of water) can provide similar benefits. Watermelons contain a high amount of antioxidants and may aid in keeping a person alert. Apart from that, they possess ample amounts of magnesium, vitamin B6, and potassium.
Beans
Beans are a well-known source of natural energy. Despite the variety of seeds available, they all have comparatively similar nutritive values. Beans are rich in fiber, carbohydrates, and protein. Their slow rate of digestion helps keep blood sugar levels stable and provides a consistent source of energy.
Tips for Optimizing Your Energy Levels

While these foods are packed full of energy-boosting properties, they aren't a magic bullet for instant energy. Elo coach and dietitian, Silvia Segestrale, reminds us that whether these energy-boosting foods will work depends on the big picture.
"Even if you include all of the energy boosting foods in your daily diet but you don't sleep or control your blood sugar levels throughout the day, or experience a high amount of stress, a person eating these foods may not experience any benefit," she says.
With that, here are five tips to optimize your energy levels and reap the most benefit from these energy-boosting superfoods.
Keep your blood sugar on an even keel.
Avoiding large spikes and drops in blood sugar is essential for keeping energy levels stable throughout the day. To do this, focus on eating low-glycemic index carbohydrates paired with lean protein and healthy fats and limiting your intake of sugar-sweetened foods and beverages.

Get adequate sleep (almost) every night. Getting enough shuteye allows your body to move through all of the stages of sleep, which experts believe is essential for maximizing energy levels. The last stage of non-REM sleep appears to be the one that plays the greatest role in energy, enhancing your ability to make ATP. Here are some things you can do to get more quality shut-eye each night.

Move your body daily.
Regular physical activity can improve muscle strength, and boost endurance, and sleep quality. Aim for 30 minutes of moderate-intensity movement most days to reap the energizing benefits.

Learn how to manage stress.
Stress affects everyone, but too much can mess with your sleep and leave you feeling fatigued. Activities like running, yoga, meditation, therapy, or even a favorite hobby can help you keep stress levels under control. Science also shows that certain supplements can help manage stress.

Moderate alcohol and caffeine intake. Alcohol and caffeine can alter your energy levels significantly, as even moderate drinking can increase your blood sugar, decrease REM sleep and lower your body's natural stimulants like dopamine and serotonin. Moderate caffeine intake can increase mental alertness and physical energy, but too much can lead to restlessness and sleep disturbances. Limit your consumption of both beverages to 1-2 per day.
Final Thoughts
In conclusion, we should all try to lead a lifestyle that is good for our health. It's important to develop healthy practices that can bring joy and fulfillment in your life, and eat energizing foods on a regular basis to increase your capability throughout the day.