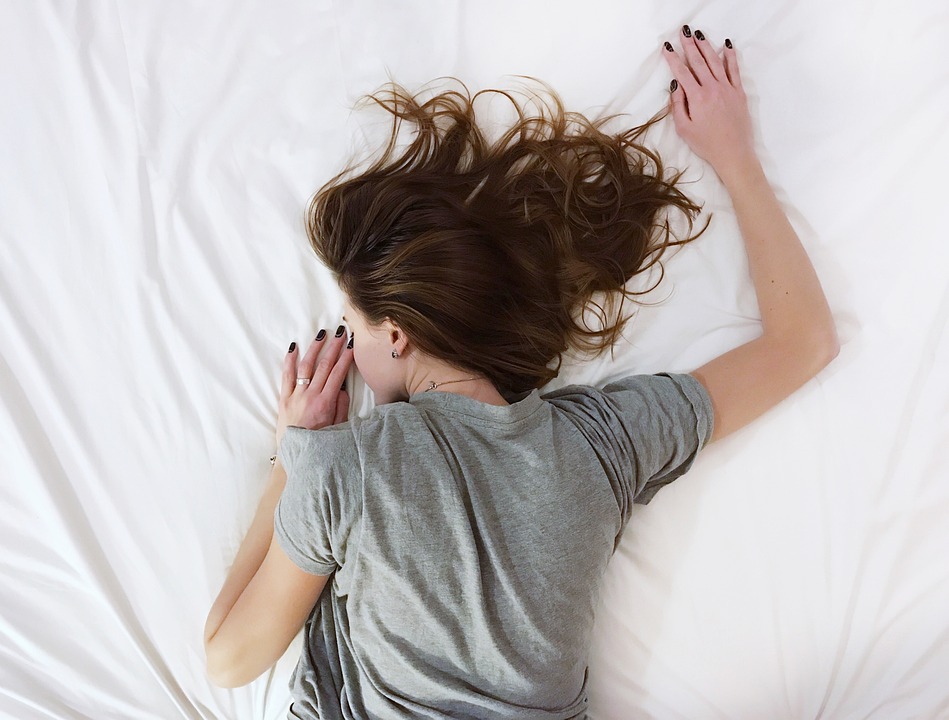 The things you do an hour before bed have a big impact on the quality of sleep you will get that night.
Spending an hour watching drama news on TV or getting into an argument can lead to feeling restless and tired instead of feeling rested. You should avoid doing anything strenuous or stressful in the hour before you go to sleep, as this will negatively affect the quality of your sleep.
There are a few simple things you can do to deeply relax your mind and body before going to bed.
1. Listen to the sounds of the night
The sounds of nature can be calming and relaxing.
Go outside to your porch or balcony and sit in silence for a while before you go to bed.
You will notice many subtle noises emanating from the darkness, mostly from insects, bugs, frogs, and some birds. You can sense harmony in their music if you listen to it quietly, which may help to relax your mind. This is an excellent way to relax before bed.
2. Read some calming literature
Reading can be a very relaxing activity.
Many people fall asleep while reading, often with the book still in their hands.
Reading can help to focus your mind and take you away from repetitive thoughts during the day. When the body is free from the constant stream of thinking, it is able to relax and achieve a state of restful sleep.
Ensure that the book you are reading does not excite mental activity, but is merely a peaceful read.
Some examples of calming books are as follows:
The Alchemist by Paulo Coelho

The Prophet by Khalil Gibran

Open City by Teju Cole

The Din in the Head by Cynthia Ozick

The Shell Collector by Anthony Doerr

About Grace by Anthony Doerr

The World of Winnie the Pooh by A.A Milne

Far from the Maddening Crowd by Thomas Hardy

Stay Calm by Jenny Kempe

Mink River by Brian Doyle

The Wind-Up Bird Chronicle by Murakami

One Man's Meat by E B White
If you find that novels keep you up longer than you'd like, try keeping a short story collection on your nightstand so you can read one before bed and still have time to sleep.
3. Practice Breath Awareness Meditation
Breath awareness is an excellent way to relax your body and fall asleep.
As you meditate, focus on your breath and the sensation of cool air entering your nose and warm air leaving. Focusing in this manner allows you to take attention away from the continuous thoughts running through your head, and instead focus on a calming activity like breathing.
Practicing this meditation causes an unconscious pattern of restlessness or unease to go away. You only need to practice this meditation for a few minutes to achieve a calm state.
You can even do this meditation lying in bed.
Other breathing exercises you can try are 4-7-8 breathing and bee breathing. These exercises can help you feel calmer.
4. Listen to soothing instrumental music
There is nothing more relaxing than the sound of shamanic drums or the sound of a flute. There is music specifically designed to relax your mind.
It is advised not to listen to music with lyrics before sleep, as it may cause the song's words to get stuck in your head, making it harder to fall asleep.
Give yourself a break and listen to some calming music. Pure, slow tunes from instruments like a flute, harmonica, pipe, guitar, or piano are especially effective in easing stress. Even the sounds of nature, like whale sounds, rain, a forest, or the ocean, can be very relaxing.
There are many videos on YouTube with relaxing sounds that you can easily find. In addition to websites, there are also apps that play the same type of sound on your phone. One really good one is the calm sound app.
5. Listen to delta frequency binaural beats
The frequency of your brain waves is altered by binaural beats, which generate deeply relaxing states.
The brain produces delta-frequency waves while in deep sleep. The delta waves produced by delta binaural beats can help to induce a state of relaxation and calmness. As your brain tries to mimic the frequency of the delta waves, you may find yourself feeling more relaxed and at ease. The term 'brainwave entrainment' or 'brainwave synchronization' is used to describe the phenomenon whereby the brainwave frequencies of an individual match those of an external source.
Listening to binaural beats with a delta frequency before sleeping can relax your mind and help you sleep deeply.
There are a few ways to find free binaural beats. One is to look on YouTube, and another is to look at websites that sell them.
6. Have a cup of Chamomile Tea
A cup of chamomile tea is very soothing and calming.
Chamomile is rich in alpha-bisabolol and flavonoids, which have been shown to have anti-inflammatory, antimicrobial, and antioxidant activity Traditionally, chamomile has been used to relieve stress and promote sleep. Some scientific studies have shown that it can be effective for these purposes due to its high levels of alpha-bisabolol and flavonoids, which have anti-inflammatory, antimicrobial, and antioxidant properties.
The great thing about chamomile tea is that it works right away and you don't have to drink it every day to cure insomnia. A cup of chamomile tea may help you sleep better.
Other decaf teas that you might enjoy include peppermint, kava, and lavender.
7. Diffuse lavender essential oil
Traditionally lavender has been used to promote sleep. And this is for a good reason.
Lavender essential oil has been shown to have an effect on heart rate, muscle relaxation, and the nervous system. Research has found that lavender promotes deep, relaxing sleep states, also known as 'slow-wave sleep.'
Adding a few drops of lavender essential oil to a diffuser an hour before your sleep time can help create a relaxing environment in your bedroom.
Use a spray top bottle to spray diluted oil directly onto your pillow and sheets if you don't have a diffuser. In order to make a homemade air freshener, add a few drops of essential oil to a spray-top bottle filled with water. Shake the bottle well to mix the ingredients, and the air freshener will be ready to use.
8. Do steam inhalation
If you want to improve your sleep quality, try taking a warm steam bath before bedtime.
To create an even more relaxing environment, add lavender essential oil to the mix. Here's how.
Boil water in a heatproof bowl. Take the pot off the stove once the water starts boiling, and add a couple of drops of lavender essential oil. Inhale the therapeutic steam through your nose for a couple of minutes. You may cover your head with a towel if you wish.
9. Do progressive muscle relaxation
Progressive muscle relaxation is an exercise you can do right before bedtime to relax your body. The technique is simple. All you have to do is tense up various body parts and relax them.
10. Listen to a sleep podcast
There are many podcasts online that can help you sleep. The narrator's calming voice and the unengaging, but not too dull topics help to distract you from your thoughts and eventually send you to sleep.
Some really popular podcasts you can check out are as follows:
Snoozecast: Stories for Sleep.

Sleep With Me by Drew Ackerman.

Sleepy by Otis Gray.

Nothing much happens by Kathryn.

Boring books for bedtime by Handymakes.

Sleep whispers.
You can find and listen to these podcasts on your phone by downloading the iTunes, Google Podcasts, Podbean, or Spotify App.
11. Listen to an audiobook
If you don't like podcasts, you could try listening to audiobooks. There is a wide variety of audiobooks available that feature calming, relaxing voices. These titles include poems, novels, and short stories.
When you listen to an audiobook, you can do it in the dark. So it's perfect for some nighttime relaxation.
You can find audiobooks on many websites, including Audible.com and AudioBook.com.
12. Take a warm bath
It's not surprising that taking a warm bath can help you relax, but it also reduces your body temperature, helping you fall asleep faster. You can relax and reduce stress by adding some bath products to your nightly routine.
13. Stretch your body or do gentle yoga
There are several yoga poses that can help reduce stress and would be perfect for your bedtime routine. Putting your legs against your wall or headboard to stretch can relieve tension and improve your mental state for bedtime.
14. Journal
There are many benefits to journaling, but it is especially helpful as a relaxation technique because it can help relieve stress. You can journal about anything that comes to mind, or you can use prompts to guide your writing. It's not important what method you use for journaling, as long as it works for you. Try out a few different methods until you find one you like.
15. Practice guided imagery 
If you don't feel relaxed after doing mindful meditation, you might have better luck with guided imagery. This stress-relieving bedtime activity intentionally engages all five senses to calm the mind and ease tension in the body.
Begin by picturing a peaceful place, like a beach or any place that brings you happiness. Think about the sounds, scents, and other details of the place, and focus on them. Repeat this process until you are feeling relaxed and ready to fall asleep.
16. Try something crafty and creative 
Attempting something creative can help lessen your anxiety and enable you to relax. There are many ways to be creative, from sketching to crocheting or cooking. The most important thing is that you find an activity that relaxes you and that you enjoy.
17. Eat sleep-promoting snacks
Eating certain foods can help you feel more relaxed and improve your sleep. Snack on foods that are high in carbohydrates and contain nutrients like magnesium, omega-3 DHA fatty acids, lycopene, and melatonin.
18. Get a massage 
Is there anything better than getting a massage? It's the perfect way to relax and get ready for a good night's sleep. If you don't have anyone to massage you, there are other options like massage pillows or handheld massagers that can provide you with similar benefits.
19. Wind down with puzzles or crosswords
Puzzles and crosswords can help to focus your attention on the present moment, which can be helpful if you often find your mind racing before bed.
20. Set the right environment
Creating an environment that promotes relaxation and sleep can improve your sleep quality significantly. You can set up your environment to support your relaxation by using a glowlight, and a sound machine, and making sure your room is at the right temperature.
21. Put on a face or eye mask
Face masks are beneficial for your skin and can help you to relax. Choose a couple of essential oils that have calming effects like chamomile or lavender, then use them while relaxing in a hot bath or reading a good book. If you don't want to use a face to listen to audiobooks, you can simply put a pillow over your eyes.
22. Listen to ASMR
ASMR is a mixture of soft noises like whispering, rubbing, tapping, scratching, and brushing. These sounds can cause positive feelings and a sense of relaxation in some people. You may or may not find that this works for you.
23. Focus on gratitude
It can feel difficult to relax when you are thinking about what is not going well in your life. It's important to focus on the good things that happen during the day, but it's especially important to do this before going to bed.
Writing down everything you're thankful for can take your mind off of negative thoughts. These things can also be said out loud as affirmations or even turned into a song. Find a way of expressing gratitude that helps you focus, relax, and relieve stress and anxiety.
24. Get a soothing back/shoulder massage
Back/shoulder massages are the ultimate form of relaxation. If you don't have someone to give you a massage, you can either give yourself a massage or use a massaging tool. You can find a ton of massaging tools online.
25. Try knitting
Repeating an activity like knitting can help you focus and prevent your mind from wandering into stressful thoughts, helping you relax. Knitting is the perfect relaxation activity before bedtime.
There are many easy knitting projects that you can do once you learn how to knit.
26. Watch a lava lamp
Another option that is similar to watching sand art is looking at a lava lamp. An incandescent lamp is used in a lava lamp, which is a special lamp that has a wax mixture of different colors. The colors rise and fall in a glass vessel creating a very cool effect.
If you turn the lights off, you will find that the soft light and movement of the wax are very soothing to watch. The lamp is designed to be easy on your eyes and induce sleep.
You can find a variety of lava lamps (different colors, shapes, and sizes) on sites like Amazon. Lava lamps can add a touch of retro style to any room and can be purchased for relatively cheap prices.