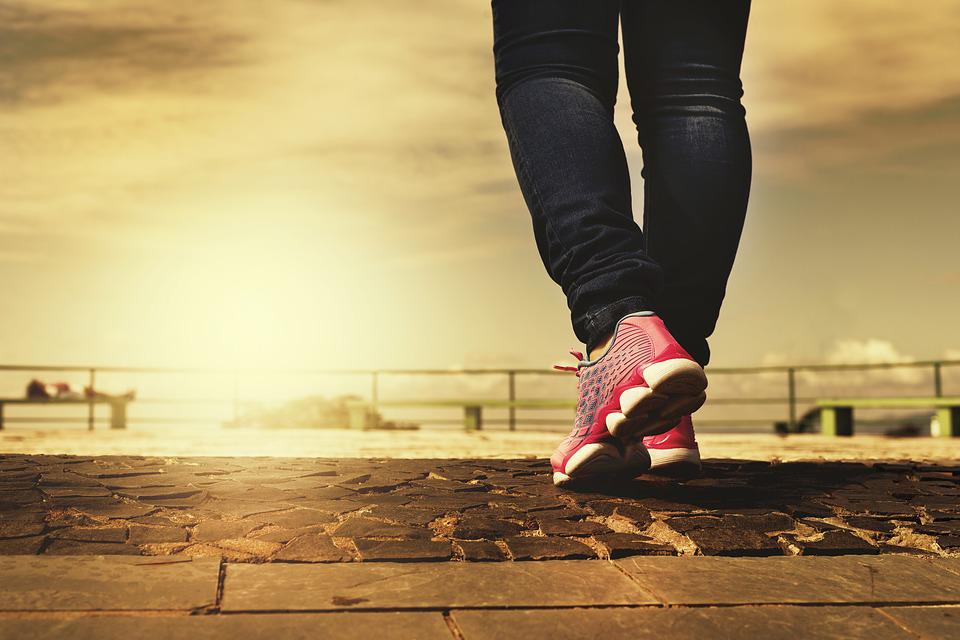 The past few years have seen a rise in popularity for activities like walking and staying active. This is likely due in part to corporate walking challenges and the fact that hitting a certain number of steps for the day has become trendy. The US Department of Health and Human Services advises that even light physical activity is better than none, and they urge adults to move more and sit less throughout the day.
NEAT is an abbreviation for Non-Exercise Activity Thermogenesis, which is the energy expended for anything besides formal exercise and sleep. Walking can help maximize your NEAT, which can be a great tool for helping you achieve your weight loss goals. Just walking a few times a week can burn upwards of 200 calories per session.
Although research suggests that walking can help with weight loss, there are other benefits as well. Walking can also reduce the risk of cardiovascular disease and improve longevity. In addition, walking regularly can improve cognition and decrease symptoms of depression and anxiety.
Check the weather
The last thing you want is to get caught in a rainstorm in the middle of your walk. The best way to avoid this is to take a look at the weather report in the morning and reschedule your walk for a time when it is not supposed to rain. Always carry a charged phone with you in case the weather takes a turn and you need someone to pick you up.
Hydrate
Make sure to drink plenty of water before and after a long walk to stay hydrated. Try to drink two cups of water at least 30-60 minutes before your walk and another glass of water when you return from your walk. Avoid sugary sodas or electrolyte drinks, as water will do just fine to rehydrate the body if you're walking at a moderate intensity.
Get the right gear
It's time to get rid of your old flip-flops and invest in a good quality pair of sneakers. This will improve your posture while walking and reduce the risk of injury. Plus, if you choose the right sneakers, they can improve your stride and make walking longer distances more comfortable.
Wear layers
Wearing layers of clothing is a good way to stay comfortable while walking. The layer closest to your skin should be made of a material that wicks away sweat. Depending on the weather, you may need one or two additional layers to protect yourself from the cold, wind, or rain. If you get too warm, you can tie the extra layers around your waist.
Invest in reflective clothing and accessories
Wearing reflective gear while walking outside is essential for safety. It can be hard for cars to see pedestrians, so reflective gear and bright colors make a big difference. Look for clothing and accessories with reflective accents on both the front and back.
Focus on form
You can improve your walking by keeping your chin up and shoulders square, activating your core, and straightening your back. Make sure your glutes are engaged with each step, and land on your heels, rolling forward to push off your toes.
Pick up the pace
If you want to burn more calories when you walk, try walking in intervals. This means walking at different speeds throughout your walk. You can start with a slow stroll, then pick up the pace to a brisk walk, and then push yourself to walk at apower walk pace for a short time. Then, slow back down to a brisk walk or a stroll. This will help you keep your walk interesting and help you burn more calories.
Set a goal
If you want to optimize your walking pace, you should try to walk 1.5 miles in 30 minutes, or 3 miles in an hour. This is a brisk pace of about 20 minutes per mile. However, if you can't commit to walking for a full hour or 30 minutes, you should still do what you can. Anything is better than nothing, and it can contribute to your daily steps tremendously. Our experts say that it's also a good idea to set a goal for the number of walks you want to take per week, and to write it down. This way, you can check each walk off as you go, and feel a sense of accomplishment.
Perform a short mobility routine before your walk
"Stretching out and activating specific muscles before your walk will help you decrease your chance of pain and injury during and after your walk," says Grayson Wickham, PT, DPT, CSCS, the founder of Movement Vault. "If you have pain during your walk, this is your body telling you that you really need to start dedicating time to your joint mobility. Everyone should be able to perform a basic life task such as walking without pain."
Wear a weighted vest or backpack during your walks
According to Wickham, making your walks more challenging by adding weight will increase the number of calories you burn.
Use a smartwatch or phone app to track your steps
According to Pata, data tracking can help individuals stay motivated by providing information on successful goal accomplishments and highlighting any areas where improvements need to be made.
Add in short jogs or runs during your walk
You can speed up your weight loss by jogging or running for 10 seconds, then walking for 2 minutes, and repeating.
Create a fun playlist
If you want to make your walking experience more enjoyable, Pata suggests creating a playlist of your favorite uplifting songs to listen to while you walk. This will help you to immerse yourself in the experience more fully.
Bring a water bottle on longer walks
Wickham suggests that staying hydrated is essential for good health and that being properly hydrated will help to make weight loss journeys more successful. Furthermore, water will help to keep energy levels up and allow people to exercise for longer periods of time.
Use a food tracker
If you're tracking what you eat with a food diary app, also make a note of how many calories you're burning by walking. This will help you stay aware of your progress and how it compares to your goals, says certified personal trainer and content strategist Susane Pata of the National Academy of Sports Medicine (NASM). It's also motivating to see that you're on track to achieving your goals.
Plan out your walking route
According to Dr. Wickham, you can use Google Maps to plan out your walking route in advance, so you can be aware of the distance you'll be covering and how many calories you'll be burning.
Schedule your walks
Adding your planned walks to your calendar will help you stay on track to reach your goals. Exercising at the same time each day will help you establish a routine, and planning your walks around other activities will help make sure you fit them into your day.
Invite a friend or family member on your walks
According to Wickham, it's a good idea to ask someone to come with you on your walk in order to stay connected with them and ensure that you stick to your walking routine. Walking with a buddy is helpful even when the activity isn't very intense.
Walk backward, if you are in a safe place to do so
"Walking backward will work different muscles than walking forwards," says Wickham. "Walking backward works your quadricep muscles more than walking forward, which can help you maintain healthy and strong knees."
Walk on an incline
If you're indoors, a treadmill will allow you to walk at different inclines, which can help you burn more calories. If you're outside, try to walk on hilly terrain to get the most benefit from your walk.
Try adding light weights
Are you hoping to make your walks more challenging? Adding light weights to your walks could be a great way to do low-impact strength training while also increasing the number of calories you burn and improving muscle tone. You could use a weighted vest, ankle weights, wrist weights, or light dumbbells that you carry with you during your walk. Even weights that are only 1-3 pounds can start to feel heavy quickly, so it's a good idea to start with a very short walking route using very light weights to see how your body feels.
Stroll with a furry friend
If you and your dog walk together regularly, you can both improve your health in many ways. These include better cardiovascular fitness, lower blood pressure, stronger muscles, and reduced stress. Walking is also important for your pet's health, helping to keep their weight under control and reducing the risk of conditions such as osteoarthritis, cardiovascular disease, and more. To get the most benefit, try adding an extra 10 minutes to your regular dog-walking routine.
Download a great audiobook
Taking your favorite book with you on an audiobook can make your afternoon walk more enjoyable and educational. Apps like Audible can help you pass the time while also keeping you engaged.
Maximize your walk with a smartwatch
A smartwatch like the FitBit Sense or Apple Watch can provide detailed information about your walk, including stats, which can help improve your experience. The watch can also encourage you to reach your step goals for the day, and keep your hands free while you walk.
Calculate your calorie burn
Your calorie burn while walking can depend on a lot of factors, like your weight, how far you walk, whether the ground is level, and what the surface is like. If you have a smartwatch, it can give you a pretty good idea of how many calories you're burning. If you don't want to use a smartwatch, there are free online calculators that can help you estimate your calorie burn.
How much walking do you have to do to lose weight?
The amount of calories you burn walking depends on a few factors, including how fit you are to begin with. "Less fit individuals who weigh more will burn more calories per minute while walking," says Pata, who is also a master trainer for various fitness brands such as TRX, Life Fitness, ICG, and Trigger Point.
You would burn an extra 100 to 200 calories by walking for just 30 minutes each day.
Over time, walking can gradually increase the body's resting metabolic rate. This is the number of calories the body burns while at rest, including breathing, circulating blood, and maintaining basic organ and neurological functions. Increasing lean body mass will also increase the number of calories burned, she explains.
To lose weight, you need to know your RMR and how many calories you're consuming. That way, you can figure out how many calories you need to burn to create a calorie deficit.
Pata says that you can start losing weight by walking for 15 minutes a couple times a day, or for 30 minutes every day. This would burn 100-200 calories, which could lead to weight loss for people who are obese and have not been active. She explains that doing 30 minutes of walking for 7 days could help you burn 700 to 1,400 calories in a week.