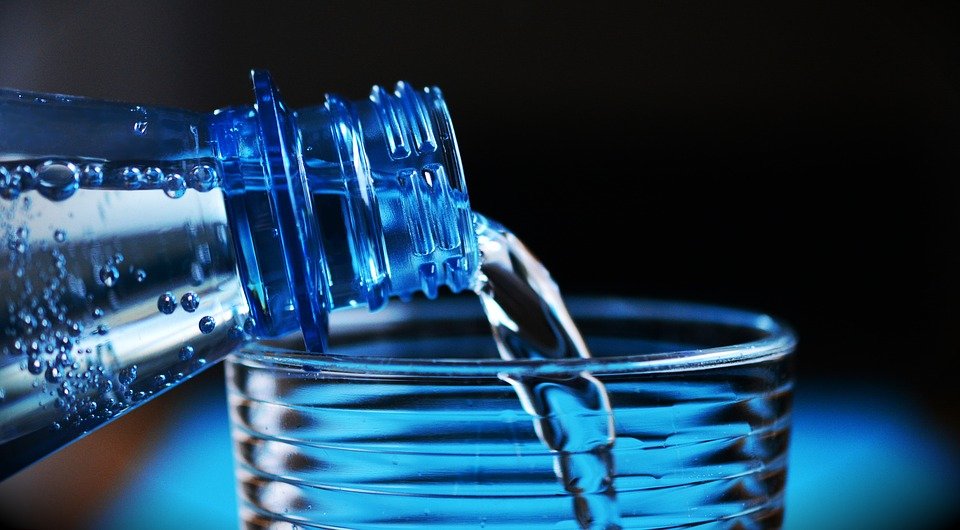 We are often told that drinking a lot of water is the key to having youthful, plump, and clear skin, but is this actually true? Most celebrities we interview maintain that drinking water is their "skincare secret" (for example, Kendall and J.Lo). While we would like to think we're drinking enough water every day, we wonder if this is actually contributing to better skin health, or if it's just a widespread myth that we've come to accept as fact.
We asked three experts their opinion on the matter to get a conclusive answer.
Does Drinking Water Actually Hydrate Your Skin?
Drinking water is necessary for our bodies to run optimally and to help nutrients reach the skin through proper blood flow, but it is not necessarily the be-all and end-all we need for dewy skin, according to Dr. Lolis.
What Does Drinking Enough Water Do For Your Skin?
Drinking enough water hydrates the cells in every part of your body, including the skin. The skin is the body's largest organ, and when it is properly hydrated, impurities and toxins are flushed out at the cellular level. According to Dr. Harish Koutam, lack of water is a cause for alarm when it comes to the skin. Dehydration leads to increased Transepidermal water loss (TEWL), which damages the skin barrier. Damaged skin barriers can cause premature aging and other problems, such as frequent acne breakouts and extreme dryness.
Here are all the benefits of drinking water for your skin:
Improves Skin Tone
Just two cups of water can help to improve the appearance of your skin by increasing blood flow and resulting in an even skin tone, as well as flushing out toxins from your body.
Prevents Premature Aging
Keeping yourself hydrated will help your skin's elasticity, keeping it moisturized and delaying sagging or wrinkles.
Faster Healing
If you get sunburnt, drinking water and applying aloe vera can help heal the sunburn and soothe the skin.
Reduces Puffiness
The skin may look puffy when it is actually retaining water to protect you from dehydration. This occurs when you don't drink enough water. Staying hydrated will reduce swelling and puffiness in your face.
Prevents Acne
Adequate hydration levels help to keep the skin's oil and water content in balance, which can reduce the amount of excess oil and sebum produced, and lead to fewer clogged pores and fewer breakouts.
The amount of adults with acne is rising due to busier lifestyles and less hydration, with a study suggesting that 4-6% of people aged 20-40 have adult acne.
No More Itchy Skin On The Face
Your skin needs moisture to stay hydrated and avoid drying out and developing cracks and flakes. Drinking enough water will help prevent your skin from getting too dry.
Tighter Skin
If you lose weight quickly, your skin may start to sag. To keep your skin tight and avoid sagging, especially in areas like your upper arms, thighs, waist, and jawline, drink plenty of water. Staying hydrated will help your skin regain its elasticity.
Maintains Your pH Balance
Drinking water can help to improve your skin if you have sensitive skin or acne. Your skin can become healthier and have a natural glow if you drink enough water to balance your body's pH levels.
Prevents Heat-Related Skin Eruptions
Water prevents your body from overheating, which can cause skin rashes and other problems.
Promotes Healthy Gut, Meaning Clear Skin
Water intake is beneficial for gut health and proper digestion. It can help regulate bowel movements and flush toxins from the body through urine and feces. If this process is smooth and the gut is healthy, the skin may remain clear and free of issues.
How to Keep Your Skin Hydrated
Rather than relying heavily on water to boost your complexion, Lolis recommends exerting your efforts topically and atmospherically, incorporating the following habits into your routine regularly to keep your skin hydrated:
Use a gentle cleanser as opposed to soap.

Steer clear of skin care products that contain alcohol.

Avoid exposure to dry air, perhaps using a humidifier.

Avoid long, hot showers or washing dishes without gloves, limiting exposure to heavily chlorinated water.

Apply a body cream after a shower or a hand cream after washing hands.

Incorporate a hyaluronic acid in your skincare routine.
According to Zeichner, it is better to hydrate the skin from the surface. "Topical moisturizers can be much more effective than drinking water in terms of hydration," he says. This is because moisturizers contain three types of ingredients that work together to help the skin: occlusive, humectant, and emollient. Occlusive, such as white petrolatum, form a protective seal over the skin; humectants, such as glycerin, act as a sponge to pull in hydration to the outer skin layers; and emollients, such as natural oils, smooth the rough edges between cells in the outer layer. In other words, a proper moisturizer (or overall routine) will have all three components to help bring in water and keep it locked in.
Best Way To Add Water To The Skin
You can add water to your skin by applying a water-based moisturizer which seals in the moisture and prevents the skin from drying up. You can also follow the tips listed below to keep your skin hydrated:
Mint
Mint helps with digestion by boiling a few leaves in water and drinking the water after it cools down. The less work your skin has to do to detox, the better it will look.
Basil
Basil can help to prevent inflammation and make your skin look younger due to its anti-inflammatory properties. The flavonoids present in basil also help to protect the skin from damage. For best results, drink water that has been infused with basil leaves.
Lemon
Sprinkle lemon juice on your fruit bowl, salad, or curry for a nutritional boost. Vitamin C in lemon juice helps Produce collagen and clean the liver, which in turn can improve your skin complexion.
Ginger
Everyone knows that ginger has multiple benefits. Adding ginger to your tea, boiling it, and drinking the concoction, or adding it to your food, can help with digestion and inflammation.
Cinnamon
If you leave cinnamon sticks in water overnight and drink it the next day, it can help manage blood sugar levels for diabetics, improve blood circulation, and prevent pimples and zits.
Juice Cubes
If you want to reduce the amount of sugar you consume, one way to do so is to freeze fruit juice into ice cubes and add them to your water bottle. This way you'll get the fruity flavors without the sugar.
Raw Honey And Apple Cider Vinegar
You can help clear acne and prevent further breakouts by adding a few drops of raw honey or a tablespoon of organic apple cider vinegar to your glass of water.
How Much Water Should We Drink to Stay Hydrated?
To find out how much water you should drink each day, divide your weight in half and drink that amount of water in ounces.
If you are not interested in drinking water, you can also get water from water-rich foods. According to the National Academies of Science, Engineering, and Medicine, the recommendation is 125 ounces for men and 91 ounces for women. "However, these numbers are referring to the overall fluid intake per day and include anything you ingest containing water, such as fruits and vegetables," says Lolis. She also suggests putting fruits (we are interested in lemon water) or vegetables in a water bottle for your own homemade spa water or adding a shot glass of juice to a 10-ounce water bottle for a hint of flavor that will have much less sugar than drinking that juice alone.
How Much Water To Drink For Glowing Skin?
The recommended amount of water that you should drink, according to experts, is 3.7 liters for men and 2.7 liters of water for women. This includes any beverages, fruits, and vegetables you drink with high water content.
Drinking increased amounts of water has been shown to improve your skin's hydration and elasticity, as well as reducing the recurrence of dry and flaky skin.
If you live in a place with a hot climate or do a lot of physical activity and sweat a lot, you need to drink more than the recommended amount of water. It is recommended that you drink enough water on a long flight to prevent cramps and fatigue.
Word Of Caution:
Drinking too much water can be harmful. This is called overhydration and it means that your body has more fluid than your kidneys can flush out. This can lead to a condition called hyponatremia.
Hyperhydration, or too much water in the body, has similar symptoms to dehydration, like vomiting, dizziness, light-headedness, headaches, and fatigue. If not treated properly, it can even be fatal.
What More Should We Be Doing to Stay Hydrated Within?
CederquistAvoiding processed foods and foods high in saturated fat is a good idea. "I also suggest getting a nice water bottle and making it a habit of bringing it with you everywhere," she adds.
When speaking about diet, Zeichner believes that eating healthy food leads to radiant skin. "A diet rich in antioxidants and omega-3 fatty acids helps create the perfect environment for healthy skin cells to function," he says.
Lolis attributes glowing skin to a multitude of factors including good nutrition, exercise, limiting alcohol consumption, not smoking, getting enough sleep, and eliminating processed foods and sugars. He also suggests drinking enough water by checking the color of your urine.
The Final Takeaway
While there may not be any direct benefits to drinking water specifically for the skin, it is important to stay hydrated for the body's overall health. Your skin might be the most likely place to show signs of lack of hydration, in an unpleasant way. According to Zeichner, the best way to keep your skin hydrated is through a little extra care in topical application and environment, but drinking an extra glass or two of water can't hurt.