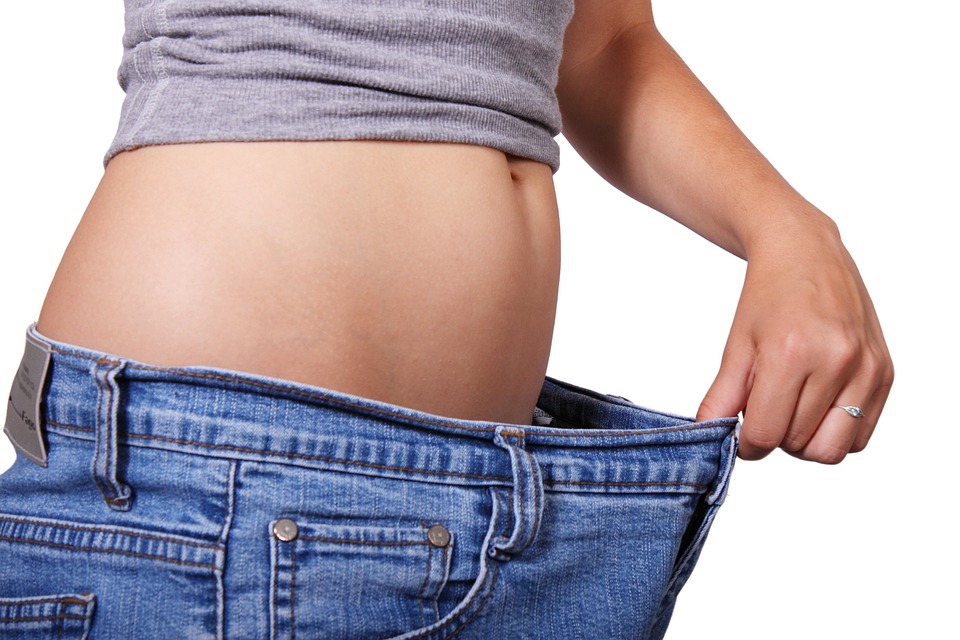 We're sorry to tell you this, but it's not possible to lose a lot of weight overnight. Some people do lose weight more quickly than others, and you can slim down a little while you sleep, but generally speaking, losing weight takes some careful planning and a lot of time. Here are some of the biggest myths about losing weight quickly. If you're just starting your journey to lose weight, don't let common misconceptions about losing weight discourage you.
Weight Loss Always Means Fat Loss
If you notice a sudden drop on the scale, especially overnight, you may think you're losing weight. But that doesn't mean it's necessarily fat loss—it could be water weight. According to Abbey Sharp, RD, owner of Abbey's Kitchen, "[Water weight] is extra water that's hanging around the tissues, joints, and body cavities between cells." It's not linked to calories consumed or expended. An uptick in water weight could be because of eating too much sodium or a change in hormones and can quickly be lost through exercise or drinking enough water (which sounds counterintuitive, but it's true!).
You Can Target Trouble Spots
You cannot slim down specific body parts through diet, although you can tone muscle in those areas, which may make them appear slimmer.
Juice Cleanse is a Quick Way to Drop Pound
Although you may be consuming fewer calories, you are also ingesting large amounts of liquid sugar, which can lead to weight gain by spikes in blood sugar levels. Additionally, depriving yourself is never a good idea.
If you cut too many calories for too long, your body will go into conservation mode because it doesn't know when it will get its next meal, says nutritionist Ilyse Schapiro. She reminds us that, although cutting calories will lead to weight loss, going too low for too long can have the opposite effect. This is just one thing that happens to your body during a juice cleanse.
Drastically Cut Calories to Lose Weight Quickly
Not only can this lead to numerous physiological consequences, it can actually have the opposite effect." Rather than going on a low-calorie crash diet, which can have negative consequences, it is better to focus on eating healthy. This means filling your diet with nutrient-rich foods and moderate amounts of calories.
Metabolism explained
You might think that your metabolism is one thing that can be improved by taking certain supplements or following certain diets, if you have seen the covers of women's magazines, watched Dr. Oz's TV show, or walked down the supplement aisle at the grocery store.
Metabolism is the chemical process that happens in the body that turns the food we eat and drink into fuel. This process is constantly changing in response to different things we do and different environments we are in, and we have very little control over it. Eating different foods and exercising a little more does not have a huge impact on our metabolism.
The human body requires calories to perform three primary functions. The first, known as basal metabolism, is the energy needed to keep the heart, brain, and cells of the body working. The second, called the thermic effect of food, is the energy used to break down food. The third, which is the energy expended during physical activity, includes walking, fidgeting, and exercising.
The basal metabolic rate is responsible for the majority of the calories a person burns each day, while physical activity only accounts for a small percentage.
Several things predict how fast or slow someone's metabolism will be, including how much lean muscle and fat they have, their age, and their genes. Women usually burn fewer calories than men. A higher metabolism means the body uses food for fuel more quickly instead of storing it as fat. Even so, a person can still gain weight if they eat more calories than their body needs. Heavier people usually have higher metabolisms than skinny people to meet the fuel demands of their larger bodies.
The processes that are essential to any living organism are complex, and scientists had been working to unravel them for centuries. However, obesity has become a crisis in recent years.
In the early 1600s, Italian doctor, Santorio Sanctorius ran one of the first controlled experiments on human metabolism. He invented the "static weighing chair," a device that allowed him to weigh himself before and after meals, sleep, toilet breaks, and even sex. Fluctuations in his body weight led him to conclude these could be explained by "insensible perspiration."
Antoine Lavoisier, a French chemist, conducted an experiment 100 years after the first one was conducted. He used an "ice calorimeter" to test how quickly ice or snow melted around cages that held animals like guinea pigs. This research suggested that the heat and gases given off by animals, including humans, are related to the energy they burn.
The "metabolic chamber" I entered has its origins in the work of Sanctorius and Lavoisier. Researchers who have been studying the metabolism for many years have discovered that the amount of oxygen we take in, and the amount of carbon dioxide we release, changes depending on how quickly we burn calories and the type of calories we are using. By measuring these gases in an airtight environment, we can determine a person's metabolic rate.
The debunking machine
The metabolic chamber, also known as a whole-room calorimeter, is the most precise tool available to track gas exchange minute by minute.
The three chambers at NIH opened in 2007 with the intention of focusing on the then-growing obesity epidemic. Eighteen researchers now use the rooms to run an average of 400 studies per year as part of a larger unit dedicated to understanding weight problems, obesity, and diabetes – conditions which currently affect up to a third of the global population.
Researchers have studied thousands of subjects in the metabolic unit to learn how adaptable the metabolism is, and how it affects our appetite, body composition, and physical activity levels.
In other words, if we use a medication to help us lose weight, our body will automatically adjust by increasing our appetite so that we end up eating more and negating the weight loss.
They found that people who were exposed to cold temperatures while they slept accumulated more brown fat. Brown fat is a type of fat tissue whose main function is heat production. The participants in the study also burned more calories. When the participants slept in warmer temperatures again, the results reversed completely. This showed how dynamic metabolism is.
In an interesting study of participants of the Biggest Loser reality TV show who were obese, it was shown that those who crash dieted had a lower metabolic rate permanently, meaning they held on to the calories they ate for a longer time. However, this isn't the case for everyone who loses weight.
Many studies show that our metabolism silently changes in response to new conditions and environments, without us realizing it.
The researchers found that there is no difference in the amount of body fat burned while on a high-fat and low-carb diet, and a higher-carb diet, despite popular belief.
According to obesity researcher Kevin Hall, who has conducted many studies on the subject, cutting carbs may lead to more fat loss than previously thought. This is because the body's metabolism would increase, causing more fat to be burned. However, Hall notes that the body is very good at adapting to different types of fuel sources, meaning that there is no one perfect diet for fat loss.
Many questions about basic metabolism remain unanswered. For example, why do two people of the same size and body composition have different metabolic rates? Why do some people develop insulin resistance and diabetes when they gain weight, while others do not? Researchers also do not know why certain ethnic groups, such as African Americans and South Asians, have a higher risk of developing metabolic disorders like diabetes. Additionally, they do not understand why people with diabetes have a higher risk of cardiovascular disease.
Scientists have not yet discovered how the brain knows the weight of the body and, as a result, the process that regulates our metabolism.
If I knew how the brain was aware of how much the body weighs, and how to regulate how many calories it burned off, I could change that setting and help an overweight person burn more calories through an increase in metabolic rate," NIH metabolism and brown fat researcher Aaron Cypess told me over the phone before my stay.
Cypess is using the chambers to research whether very cold temperatures can help people burn more calories, in the hopes of developing a drug that assists with weight loss. These studies conducted in the chamber provide valuable data on the metabolism, which could eventually lead to cures for obesity and diabetes.
The metabolism myth
I put down the phone and thought about what I had just experienced in the chamber – and my desire to learn more about my body.
Although I was successful in losing weight, I realized that the epidemic of weight problems has damaged our physical health and left many psychological scars.
I was surprised and relieved when nurses and doctors kept referring to my biomarkers as excellent and me as very fit. Even though I know my body weight is in a healthy range, I still feel like a chubby kid.
Even if you're not overweight, you can still have feelings of inadequacy. Celebrities and large companies make billions of dollars by making us anxious about our physical appearance and suggesting that we buy their products to fix ourselves.
Although the metabolic chamber provides accurate information, there is still a lot of variation in how people respond to diets and exercises. This is why the one-size-fits-all weight loss advice is often ineffective.
While some people have a "slow metabolism" relative to others their size and age, this is not a major cause of obesity, according to the chamber. There is also no evidence that "metabolism boosting" products lead to substantial weight loss.
There was never one specific thing that helped me lose weight. Instead, it was a combination of different habits and routines that I stuck to. Through trial and error, I found ways to eat less and move more.
I follow a few simple rules to stay healthy. I don't eat junk food, I get enough sleep, and I try to eat a lot of fruits and vegetables. I also make sure to exercise every day by walking or biking to work, or during lunch breaks. I like to do more intense workouts like yoga, running, swimming, spinning, or Pilates on mornings or weekends.
The routines I have are not yet perfected, and I am fully aware that my ability to keep them up is closely associated with my socioeconomic status and location. If I had more personal or financial stressors in my life or lived in a neighborhood that was further away from my job, I would probably get less sleep and eat more. There is no way I would be able to do Pilates under those circumstances.
Even if a slow metabolism isn't the reason people become obese, it may still be a place to intervene for weight loss, according to Lex Kravitz, an NIH neuroscientist and obesity researcher. The same goes for the other common illnesses—diabetes, and cardiovascular disease—linked to extra weight.
This science from the chamber should help to disprove our myths about metabolism. It certainly disproved mine.