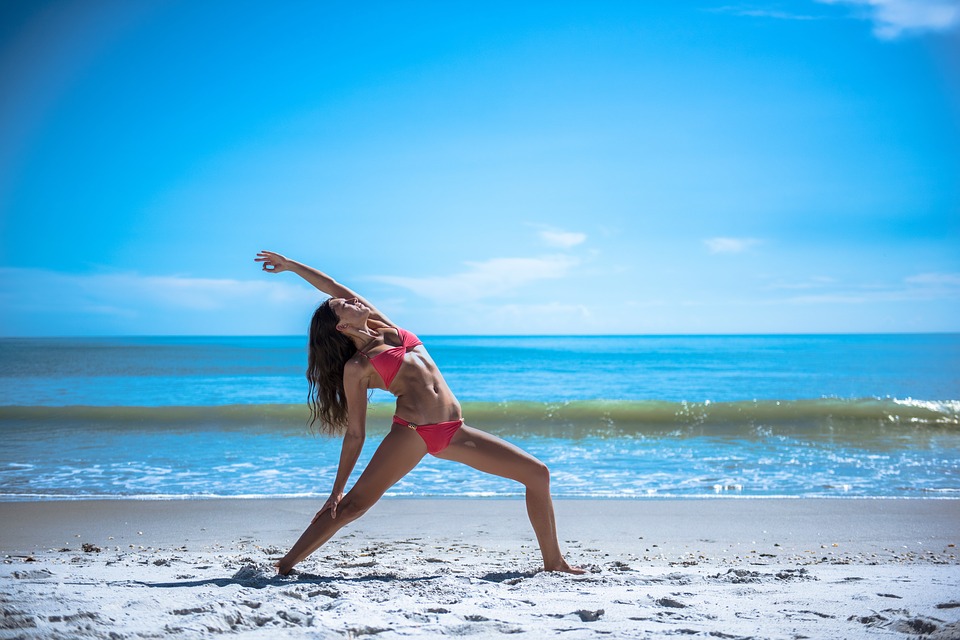 It would be difficult to find someone who has not heard of Beachbody workouts. Even those who are not interested in fitness have likely seen the late-night commercials where people show off their dramatic before-and-after photos.
I was intrigued when the company released their newest Beachbody On Demand program called Job 1 last month.
I was surprised that the program only required 20 minutes of exercise a day. I had assumed that it wouldn't be enough, but it was perfect.
What is Beachbody on Demand?
Beachbody on Demand is an online streaming service that has workouts for any fitness level or body type!
How many workouts are on Beachbody on Demand?
There are 41 complete fitness programs on Beachbody on Demand that can be streamed. These workout programs are led by celebrity trainers like Autumn Calabrese, Jericho McMatthews, Tony Horton, Shaun T, Sagi Kalev, as well as other popular super trainers including Joel Freeman and Megan Davies!
Whether your goal is weight loss, strength training, or increasing your current muscle definition, there is a Beachbody program to help you get maximum results.
The best thing about it is that you get access to workout routines from the best trainers, nutrition plans, and a free coach as part of your membership!
What workouts are on Beachbody on Demand?
Beachbody offers a range of home workout programs that you can streaming. You can try different workouts every day or stick to one exercise program.
These are the workout programs currently offered:
10 Rounds

#MBF and #MBFA

Barre Blend

6 Weeks of the Work

4 Weeks of the Prep

Morning Meltdown 100

21 Day Fix

21 Day Fix Extreme

Real Time 21 Day Fix and Extreme

Transform 20

LIIFT4

80 Day Obsession

PiYo

Shift Shop

Core de Force (martial arts)

Focus T25

3 Week Yoga Retreat

P90, P90X, P90X2, and P90X3

Body Beast

Insanity, Insanity Max 30, and The Asylum

Master's Hammer & Chisel

22 Minute Hardcorps

Cize

Rockin' Body

Hip Hop Abs

Country Heat (so much fun if you love Country Music!)

Clean Week

10 Minute Trainer

ChaLEAN Extreme

TurboFire

DoubleTime

Pre & Post Natal Barre

Beachbody Hybrid Calendars

and so many more!
Each workout comes with its own workout calendar and nutrition guide. If you want to learn more about healthy eating, Beachbody also offers two in-depth nutrition guides—Ultimate Portion Fix and 2B Mindset—that you can add to your membership.
Every member gets first access to brand new programs, such as Control Freak and 30 Day Breakaway. You also get access to Autumn Calabrese's cooking show, FIXATE, and the meditation program, Unstress.
Is Beachbody on Demand good for beginners?
Beachbody on Demand is a great resource for beginners looking to get into shape. There are several beginner-level programs offered, and even the more intense workouts can be modified to accommodate different fitness levels. Country Heat, 21 Day Fix, and Let's Get Up! are all great workout programs for beginners.
Does Beachbody on Demand still have workout DVDs?
Some older Beachbody workouts are still available on DVD, but most new ones can only be streamed. The reason is that most new programs are "filmed live," with 30 or more workouts, whereas in the "olden days" only seven workouts were repeated on DVD.
Even if it's your first time streaming, it's still worth it because of how flexible and diverse it is. With online access, you no longer have to pay extra for bonus workouts because they're all included for free.
How much does a Beachbody On Demand membership cost?
To do the workout now, you need to buy the Total Solution Pack for $159.95. This will give you access to Job 1 VIP Early Access, as well as a one-year Beachbody On Demand membership, program guides, accessories, digital nutrition programs, and support. If you wait until later this year, you will only need a Beachbody On Demand membership, which costs $99 per year.
In order to complete the Job 1 program, you will need to procure some equipment including resistance bands (light and medium/heavy), dumbbells (light, medium, and heavy), and a mat. A stationary bike is optional but not necessary.
What is the Job 1 workout program?
The latest Beachbody program, led by former Peloton instructor Jennifer Jacobs, is called Job 1. The program is four weeks long, with five workouts a week. Each workout is 20 minutes long. The program is based on the idea that people will make the same commitment to their health as they do to their job.
The workout tab contains videos that are organised by week, as well as a downloadable calendar so you can keep track of your progress.
The program has four workouts that can be swapped in for the cardio sessions each week. The program also includes five bonus workouts that you can add to any session.
I tried Beachbody's Job 1 workout
In the intro video, Jacobs talks about how the program is more than just a workout, it's a change in mindset where you prioritize yourself. I joined at a great time, in the middle of December when a lot of people tend to let their fitness goals slip, including me.
I was pleased to see that the program I downloaded had an interactive PDF calendar included. I liked being able to check off each workout as I completed it on my desktop. However, it immediately reminded me of other Beachbody programs I have tried in the past. I always felt stressed about getting in every single workout prescribed by the program. This can be difficult to do when life gets in the way. As a mother of a toddler, I sometimes have a very inflexible schedule. The good news is that the workouts are only 20 minutes long. I am hopeful that I will be able to stick with the program and that it will help me to keep my health a priority.
What I liked about Beachbody's Job 1 workout
The 20-minute workouts were something I wasn't too sure about at first, but I quickly became a fan. Even during the holidays when I have little time, the promise of only 20 minutes was enough to get me moving on days I otherwise wouldn't have. And after coming back from a week of indulging, the plan held me accountable and made it easy to start the year off strong. The workout length is what makes this program so doable and I was actually able to stick with it for an entire month. It helps make exercise a habit without feeling like torture, which is something I've experienced with other programs that have longer classes.
This program is a good workout for anyone, regardless of your fitness level, because it provides modifications for most exercises and you can also adjust your weights to make workouts easier or more difficult. It also provides a great cardio workout without needing a lot of space.
I was really pleased that every workout was different – I was expecting the same workout every week like a lot of other programs. I enjoyed using resistance bands in the workouts too, it's something I don't often use but always enjoy when I do. The program showed me lots of new ways to use them to make dumbbell exercises even more difficult, which I hadn't done before.
I was disappointed when the program ended, but I'm going to keep doing some of the strength workouts on their own in the future.
What I didn't like about Beachbody's Job 1 workout
The advertisements after every workout were annoying. During the bonus videos, Jacobs also pushes other Beachbody products, encouraging you to join the community, pick one of the Beachbody nutrition plans and try their supplements. This is something that is typical of Beachbody and it's easy enough to ignore, but I don't like being peppered with ads during my workout time.
There is no disguising the fact that the music options are terrible. The music playing in the background during each workout is simply instrumental, and not even good beats. Jacobs has a Spotify playlist for each type of workout, which is much better, but it is difficult to use. The links for the playlists take you to Spotify, which makes it hard to balance between hearing Jacobs' instructions and being able to enjoy the music. If you don't have a Spotify premium membership, you also have to listen to commercials, which is frustrating during a workout.
I didn't like the spin workouts because I couldn't do them on my spin bike.
To do the workout effectively, you will need three sets of dumbbells and multiple resistance loops, which are relatively affordable and will come in handy for other workouts down the road.
Beachbody on Demand Review – Pros and Cons
What we love
Variety of workouts

Printable calendars & program materials

Ability to download 5 workouts at a time (on top of unlimited streaming)

Support from your Beachbody coach and their accountability groups

Ability to try new workouts without having to buy them individually

The instruction by the trainers is really great

It's super easy to use either online, on your phone, or with the app on a streaming device

Cheaper than a gym or a Daily Burn membership

Easy access to over $7,000+ worth of workouts

No shipping costs

You can start immediately without waiting to receive videos in the mail

It's mobile friendly so it's easy to view on any device

No crazy long "warning" or ads before a workout

Sample workouts of new programs!

Access to BOD-only programs like the 3 Week Yoga Retreat, Beachbody Yoga Studio, Shaun Week, and more!
What we don't love
You have to buy early access to new programs or wait 3-6 months to have them added to the library.

There is a SMALL learning curve if you're not used to streaming. (If you can do Netflix, you can do BOD though!)

You're basically renting the workouts versus owning them as a DVD.
I would recommend this workout to:
People who are super busy and have no time to exercise.

Anyone struggling to make fitness a habit.

Those who exercise at home and don't have a lot of space.

People who are new to strength training and want to make it part of their routine.

Anyone looking for a workout routine that includes both HIIT and strength training.