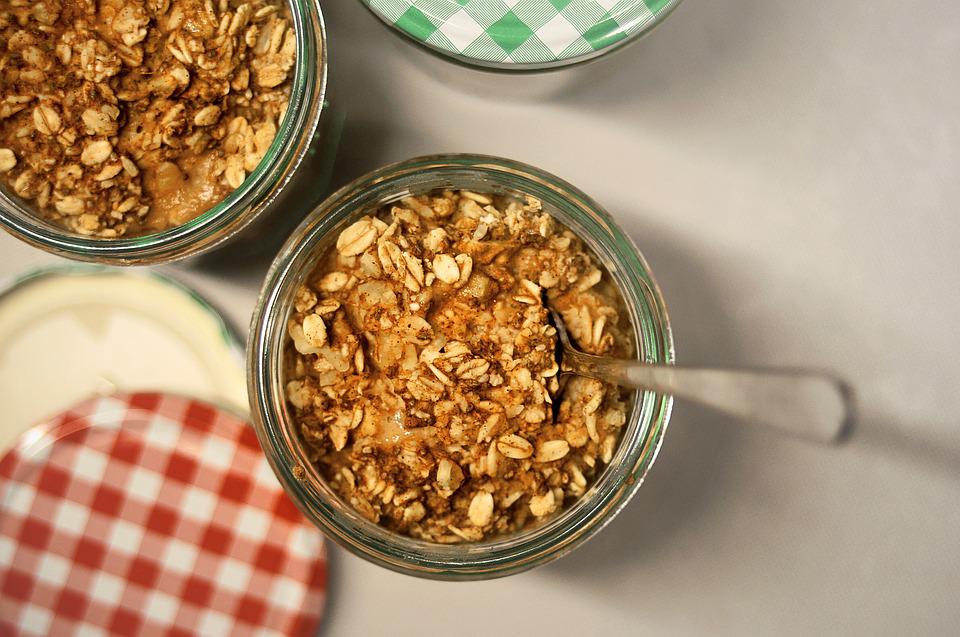 Would you like to learn how to make overnight oats? They are one of the easiest, no-cook breakfast options and can be healthy and grab-and-go. You can also customize them to your liking!
If you're looking for easy and healthy breakfast ideas, overnight oats are for you. All you need to do is mix a few ingredients in a jar, stick it in the fridge, and enjoy the next morning. No cooking or baking required, and you don't even dirty any extra dishes. It's a win all around.
Overnight oats are a versatile and convenient breakfast option. The base recipe is simple and can be made more exciting with various toppings and mix-ins. Possible toppings include fresh fruit, nuts, seeds, spices, jams, and more.
What are overnight oats?
Overnight oats are a raw oatmeal dish where you soak the oats in a liquid, like milk, for at least 2 hours or overnight.
What is the texture of overnight oats?
Soaking oats for a few hours makes them soft and chewy, like classic oatmeal.
Do you eat overnight oats cold or warm?
You can eat overnight oats cold or hot, depending on what you prefer.
Health Benefits of Overnight Oats
If you're looking for a healthy breakfast option, overnight oats are a great choice. They're packed with nutrients like resistant starches and prebiotics, which are great for gut health.
It's a nutritional powerhouse! Aside from being rich in fiber, protein, and antioxidants, oats contain a wide range of vitamins and minerals that promote a happy and healthy gut.

Have digestion problems? No problem. Soaking your oats overnight helps to break the starches down and reduce phytic acid. That means it's easier to digest and absorb the oats' nutrients more efficiently. Perfect for those of us with gluten sensitivities!

Contains a higher dose of resistant starch. Resistant starch is a natural carb that helps with things like digestion, weight loss, and increasing feelings of fullness. Luckily, cooled starchy foods (like overnight oats) have a higher amount of resistant starch compared to cooked ones.

Time and money savers. Oats are one of the best ingredients when you're looking to eat healthy on a budget. Best of all, prepping overnight oats takes less than 5 minutes!
What is in Overnight Oats?
The main ingredient in overnight oats is oatmeal, but did you know that there are three different types of oatmeal that can be used? They all taste great, but each one has a slightly different texture.
Rolled oats: rolled oats (or old-fashioned oats) are the most common oat to use in overnight oats and become thick and creamy after soaking in liquid.

Quick-cooking oats: quick-cooking oats end up more like cold porridge, but they're still chewy and flavor super well.

Steel-cut oats: your steel-cut overnight oats will end up best if you use a quick-cooking steel-cut oat and give it a quick microwave before letting it soak overnight. The texture of these has more of a bite to it, but it's so good good!
Other Common Ingredients
Milk: milk is our preferred liquid to make overnight oats and is very essential. You can use any kind of milk you want such as cow's milk, almond milk, coconut milk, oat milk, etc.

Chia seeds: Chia seeds are not only a great source of antioxidants, fiber, and omega-3s, but they help thicken your overnight oats and make them extremely creamy and satisfying.

Greek yogurt: Greek yogurt is such an amazing, tangy add-in for overnight oats that really enhances the flavor and makes them extra creamy. Oh, and it's a great post on extra protein.

Vanilla extract: You can't go wrong with vanilla. We almost always add a teaspoon of vanilla extract to all overnight oatmeal recipes!

Honey or maple syrup: All natural sweeteners are key when it comes to overnight oats. Ditch the table sugar or brown sugar for something more natural like honey or maple syrup.
Ways to Make Overnight Oats Exciting
Now it's time for the fun part – choosing your toppings and mix-ins! You can add anything you like to overnight oats, so be creative! If you need some inspiration, below are some of my favorite flavor combinations.
Fresh fruit: Make the most of seasonal fruits, including blueberries, raspberries, strawberries, bananas, peaches, pears, and apples. You can also blend them into a puree or make a chia seed jam to stir in.

Dried fruit: Raisins, cranberries, goji berries, and chopped dates lend a chewy texture and fruity flavors.

Nuts and Seeds: Sliced almonds, chopped pecans or walnuts, hemp seeds, sunflower seeds, pepitas, and toasted sesame seeds add a subtle crunchy texture.

Extra Flavor: Sprinkle on coconut flakes or cacao nibs. They'll taste amazing with banana, strawberry, or tropical flavors.

Spices: Stir in cinnamon, nutmeg, turmeric, cardamom, or ginger to spice things up a bit!

Yogurt: Mix in any type of yogurt for extra creaminess. Plus, it'll add extra protein and a probiotic boost.

Nut Butter: Choose your favorite nut butter (I always love almond butter), and stir it in or drizzle it on top. It too will provide a protein boost.

Protein Powder: Still want an even bigger protein boost? Feel free to add protein powder or collagen powder.
How to Make Overnight Oats (2 Steps)
Overnight oats are a great breakfast choice because they are quick and easy to make. Here is a quick rundown:
Mix: Combine all ingredients for your overnight oats in a bowl or jar and stir until combined.

Soak: Cover oatmeal and let soak in the fridge overnight or for at least 2 hours.
You don't have to let your oats sit overnight, but the longer they soak, the thicker they will be. We recommend at least 2 hours, but overnight is optimal.
To make a larger quantity, simply multiply the recipe by two, three, or four.
Stir together. In a large mixing bowl, stir together the oats, milk, yogurt, chia seeds, and maple syrup.

Cover and soak. Cover the bowl with a lid or plastic wrap and let it soak overnight in the fridge.

Serve individually. Scoop out a portion (1-cup) from the bowl into a serving glass or bowl. Then add your favorite toppings!
Oats Too Thick or Too Thin?
If the mixture is too thick, add more milk to thin it out.
If your porridge is too thin, add more oats and leave it to sit for at least 30 minutes.
Easy Overnight Oats (6 Amazing Flavors)
PREP TIME: 5 mins
CHILL TIME: 8 hrs
TOTAL TIME: 8 hrs 5 mins
SERVINGS: 1 serving
CALORIES: 308kcal
Ingredients
Base Overnight Oats
1/2 cup rolled oats
1/2 cup milk dairy or dairy-free
1/4 cup Greek yogurt or dairy-free yogurt
1 tablespoon chia seeds
1 tablespoon maple syrup
Banana Bread
1/2 banana mashed
2 tablespoon chopped walnuts
1/2 teaspoon vanilla extract
1/2 teaspoon cinnamon
pinch of ground flaxseed
Spiced Pear
1/2 pear diced
1 tablespoon chopped pecans
1/2 teaspoon cinnamon
pinch of nutmeg
PB&J
2 tablespoon raspberry jam or puree
1 tablespoon peanut butter or almond butter
1 teaspoon chopped pistachios
Pina Colada
1/4 cup small diced pineapple
1 tablespoon shredded coconut
1/4 teaspoon vanilla extract
*note: use coconut milk in the base recipe
Carrot Cake
1/4 cup shredded carrot
1 tablespoon shredded coconut
1 tablespoon raisins
1/2 teaspoon vanilla extract
1/2 teaspoon cinnamon
Strawberry Protein
1/4 cup small diced strawberry
1 scoop protein powder or collagen powder
1 tablespoon sliced almonds
1/2 teaspoon vanilla extract
Instructions
Add all the ingredients into a sealable jar or bowl and give it a stir until it's all combined.

Let it soak in the fridge for at least 2 hours, but it's best to soak overnight for 8 hours. This will yield a creamier consistency.

Top your overnight oats with your favorite toppings and enjoy!
Notes
If you make a large batch of oatmeal in a bowl, you can scoop out one cup for a single serving the next morning.
Nutrition
The text provides information about the macronutrient and micronutrient profiles of a particular food item. It states that the food item contains 308 calories, 48 grams of carbohydrates, 12 grams of protein, 8 grams of fat, 8 grams of dietary fiber, 14 grams of sugar, and various vitamins and minerals.
The Best Jars to Use
You should use a 16-ounce jar if you plan to add toppings to your overnight oats, and a 12-ounce jar if you're just making the base recipe with a few mix-ins.
Mason Jars: Traditional mason jars are perfect for overnights oats. The pint-sized jars are 16 ounces, and the screw-top lid is secure and super easy. You can also get 16-ounce wide mouth jars if you prefer.

Weck Jars: While I normally love Weck Jars for so many things (like chia pudding), if you plan to "grab and go" with your overnight oats, you might lose the clips. But if you're careful, the 1/4 liter mold jar is the perfect size for the base recipe at 12.5-ounces.
How to Store and Meal Prep
Overnight oats are a great way to make a quick and easy breakfast, whether you're making one serving or enough for five days.
To Store: Overnight oats will keep for up to 4 days in the fridge. If you have fruit toppings or fruit mix-ins, I recommend no more than 3 days, as the fruit is likely to go bad first.

For Freezing: Yes, you can freeze overnight oats! Similar to my meal prep chia pudding, overnight oats will stay good for several months in the freezer.
Overnight Oats FAQ
We get a lot of questions about overnight oats, so we put all the details for you below!
Do you eat overnight oats cold?
You can eat overnight oats cold or warm, depending on your preference. The oats soak overnight, making them soft and easy to digest, so they're delicious either way.
What is the texture of overnight oats?
I prefer my overnight oats to be thick and chewy, but you can always add more milk to thin them out.
Can you make overnight oats with milk?
The standard ratio for milk to rolled oats is 1.5 cups of milk to 1 cup of oats.
You can keep overnight oats in the refrigerator for up to four days.
This means that you can make a big batch on the weekend and have breakfast ready to go for the entire work week! You can make a big batch of overnight oats on the weekend, and they will last in the fridge for 3-5 days. Having breakfast ready to go for the entire work week is a huge time saver.
Is overnight oatmeal good for you?
Overnight oatmeal is a healthy breakfast because it is made with whole grain and is packed with fiber.
Can you make overnight oats without milk?
If you don't want to use milk, you can use any kind of dairy-free milk or water.
Is eating oats good for weight loss?
Oats are beneficial for weight loss as they are high in fiber and whole grain. They help regulate and maintain hunger levels.
How long does it take to make overnight oats?
We recommend preparing your overnight oats before bed so that you wake up to an already made breakfast! It takes about 5 minutes to prepare them, and they need to soak for about 2 hours.
Can you make overnight oats with quick-cooking oats?
You can use quick-cooking oats instead of rolled oats.