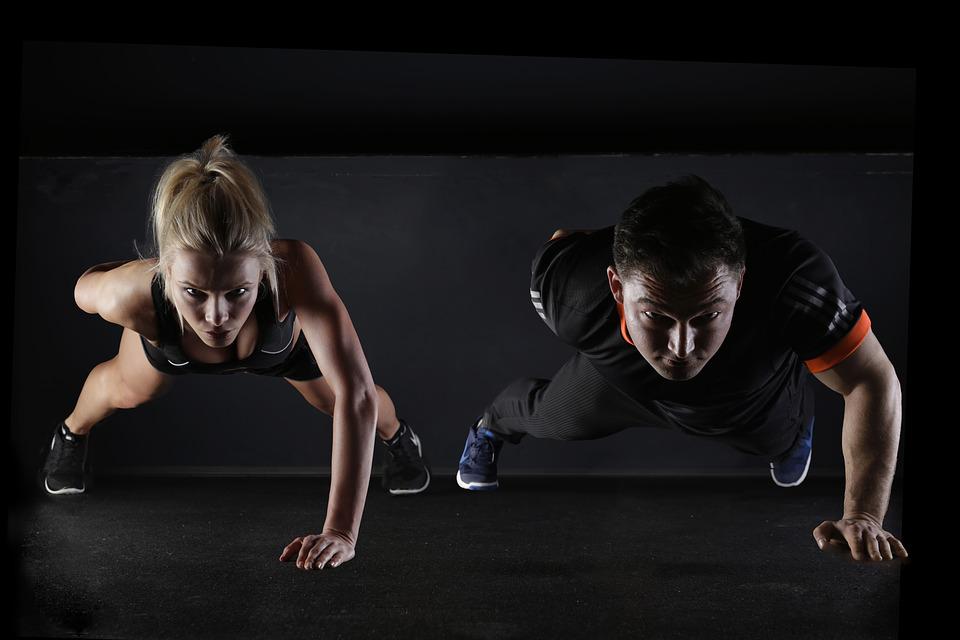 The advice to "lift heavy" is becoming more common nowadays.
You don't need to lift weights to build strength and sculpt your body. Getting a workout with just your body weight is enough for many people.
We have compiled a list of 12 exercises that will help you burn calories without the use of weights.
To see success in strength, practice your routine two to three times a week. Each move needs a certain number of sets and reps, which you can learn by reading further. Even though this routine doesn't require any equipment, it's still a tough workout because it includes a mix of cardio, plyometrics, and bodyweight exercises.
Combine 5–6 of these exercises to make one challenging routine:
Rotational jacks
This exercise is a variation of the jumping jack, where you add a rotation. Rotational jacks are a good way to start your workout as they will increase your heart rate and warm your muscles.
Directions:
Start in a wide stance with soft knees. Your arms should be extended straight out at your sides so they're parallel to the ground.

Keeping your arms straight and head and neck stationary, hinge forward at the hips and rotate your torso so your right hand touches the ground.

Return to the starting position and jump your feet together.

Immediately jump your feet back out, hinge forward again, and rotate to the left, touching your hand to the ground.

Return to start. Jump your feet together and twist again to the right.

Complete 12–15 reps for 3 sets.
Plank reach-unders
While planking may seem like a simple exercise, it provides a full-body workout and benefits. Adding a reach-under targets your core muscles even more.
Directions:
Assume a high plank position on your hands.

Ensure your core is braced and your lower back doesn't sag. Your neck and spine should be neutral.

Lift your right hand off the ground and back toward your left thigh, tapping it with your fingers. Return to a plank.

Repeat with your left hand, tapping your right thigh and returning to a plank.

Complete 3 sets of 20 total taps.
Step-ups
Step-ups target the lower body and help improve balance and stability.
Directions:
Start standing in front of a knee-height bench, or step with your feet together.

Step onto the bench with your right foot, pushing through your heel and driving your left knee up.

Lower your left leg down, stepping backward off the bench.

Complete 10–15 reps with your right leg, then switch and complete 10–15 reps, leading with your left leg.

Complete 3 sets.
Mountain climbers
You don't need to lift weights when you can do a few sets of mountain climbers. The combination of your own body weight and the knee drive will have your muscles and lungs burning.
Directions:
Assume a high plank position with your arms extended.

Engaging your core and keeping your spine and neck neutral, drive your right knee up toward your chest. Extend it and immediately drive your left knee up toward your chest.

Repeat for 30 seconds, going as fast as you can while maintaining good form.

Complete 3 total sets.
Squat jumps
Plyometrics are exercises that work your muscles hard in a short amount of time. An example of a plyometric exercise is a squat jump. You don't need to do many sets of these exercises to see results. However, be careful when doing these exercises as they are high-impact and may not be suitable for people with sensitive joints.
Directions:
Lower into a squat position with your arms bent and hands together out in front of you.

Explode up into a jump, pushing through and landing back on the balls of your feet.

When you reach the ground again, squat down and repeat.

Complete 3 sets of 10–12 reps.
Burpees
Burpees are a type of high-impact plyometric exercise that will quickly torch calories.
Directions:
Start by standing straight with feet shoulder-width apart and arms down by your sides.

Start to squat down, moving your hands out in front of you. As soon as they reach the ground, extend your legs straight back so you end up in a high plank position.

Immediately after you reach the high plank position, jump your feet up to your palms by hinging at the waist. Get your feet as close to your hands as you can get, landing them outside your hands if necessary.

Stand up and immediately go into a jump squat.

After you land, extend your legs back out again, continuing steps 3–4.

Start with 15 reps.
Standing side hops
You should include lateral movements in your exercise routine to improve your hip and ankle mobility. One way to do this is to stand and hop from side to side.
Directions:
Start standing with your feet together and your arms bent at a 90-degree angle at your sides. Your knees should be soft.

Keeping your feet together, jump to the right, taking off and landing on the balls of your feet.

As soon as you reach the ground, jump back to the left.

Repeat 20 reps for 3 sets.
Squat pulses
If you want to feel the burn, hold a squat position and pulse there. This will increase the time under tension or the amount of work your muscle does during a workout.
Directions:
Get into a squat position with your hands together out in front of you.

Raise up slightly, pushing through your heels, then back down again.

Repeat for 30 seconds.

Complete 3 sets.
Flutter kicks
Although they target your core, flutter kicks also focus on the hips. Three sets of these will make you feel it the next day.
Directions:
Lie on your back on a mat with your legs extended into the air so your body forms a 90-degree angle.

Slowly lower your right leg down toward the ground as far as it will go while maintaining contact between your lower back and the ground.

Return your right leg to start, and lower your left leg down the same way.

Complete 20 total reps for 3 sets.
Pushups
Although they may seem simple, pushups are a great workout for your upper body, core, and lower body. They can be modified to make them easier or more difficult, so anyone can do them.
Directions:
Start in a plank position with your pelvis tucked in, neck neutral, and palms directly under your shoulders. Make sure your shoulders are rotated back and down, too.

As you brace your core and keep your back flat, begin to lower your body by bending your elbows while keeping them tucked into your body. Lower down until your chest grazes the floor.

Immediately extend your elbows and push your body back up to the starting position.

Repeat for as many reps as possible for 3 sets.
Broad jumps
This move is high-impact and requires a lot of force, so it burns a lot of energy.
Directions:
Start standing with your feet shoulder-width apart and your arms down at your side.

Squat down halfway, and use that explosive energy to jump forward, throwing your arms forward at the same time.

Land with a soft foot and your weight slightly forward.

Complete 10 reps for 3 sets.
Split squats
Working your glutes, quads, and hamstrings will pay off because they are the largest muscles in your body. Split squats specifically will give you great results.
Directions:
Take a large step forward with your left foot to form a staggered stance. Distribute your weight evenly between both feet.

Bend your knees and lower your body down until your left knee forms a 90-degree angle.

Push up and repeat for 12 reps. Switch legs and repeat.
More Ways to Build Muscle Without Lifting Weights
Electrical Muscle Stimulation (EMS)
If you're looking to build muscle without putting in any effort, electrical muscle stimulation (EMS) is the way to go. Studies have shown that EMS is an effective method for building muscle.
If you're not familiar with EMS, here is a quick summary:
The electrical muscle stimulation machine sends electrical pulses to your motor nerves, which causes your muscles to contract. This is similar to the way that your muscles contract during a workout.
A research project in Russia found that highly trained athletes could benefit from elecronic muscle stimulation (EMS) treatment.
Respondents who did strength-training exercises just once a week for nine weeks saw improvements of between 30% and 40%.
The World Academy of Science found that both strength and muscle size were increased.
Swimming
Swimming is a low-impact form of exercise that does not put strain on your joints.
You don't have to lift weights to gain muscle mass.
If you're wondering if swimming can build muscle, just take a look at Olympic swimmers!
While using dumbbells may not help you build muscle as quickly as free weights, they can still be beneficial.
Yoga
Yoga has increased dramatically in popularity over the past few years, with an estimated 36 million people now practicing in the United States.
There are many benefits that it offers to men, women, and children.
Though yoga might look like a super relaxing form of exercise, it can actually strengthen most of your muscles!
There are a number of yoga poses that are especially good for building muscle strength.
Why not grab your mat, and start stretching today!
Eat More Protein
One way to encourage muscle growth is to eat more protein.
There are many foods that are high in protein, such as chicken, turkey, eggs, lentils, and tofu.
Proteins are composed of amino acids, which are important for muscle growth and maintenance.
Resistance Training
However, there are some exercises that involve using weights for resistance. There are two main types of resistance training: using elasticated bands during bodyweight exercises, and using weights for resistance.
If there's a particular area you want to build muscle, working out with weights can be the ideal technique as it allows you to target specific muscle groups.
A systematic review of all the research around resistance training and muscle hypertrophy reached the same conclusion:
People who want to build muscle mass should do resistance training.
This form of exercise is used during physical therapy as a way to rebuild muscle strength for people recovering from an injury.
Suspension Training
Suspension training is a form of exercise where you use ropes or straps to support your body weight.
If you're finding it difficult to manage your back pain, then this type of exercise may help to alleviate the problem.
The article compared the effects of four different suspension training systems on muscles.
The four systems being compared were all more effective in terms of muscle activity than the floor version of the exercise.
Running
Running for a bit can help improve muscle without needing to lift weights.
Dietitian Gavin Van De Walle explains the science behind how it helps:
Aerobic exercise like running is thought to help with muscle growth by decreasing the activity of proteins that interfere with muscle growth, and by reducing muscle protein breakdown.
He is saying that you should be careful with how long you run lasts.
Long-distance running can prevent muscle growth by increasing the level of myofibrillar protein breakdown.
Keep Your Stress Levels Low
The stress crisis in our society is becoming increasingly worse, with the last few years adding to the problem.
If you want to build muscle without lifting weights, you need to manage your stress levels.
The release of stress hormones has a negative impact on muscle growth, according to scientific research.
There are a few things you can do to help reduce stress, like practicing yoga, meditating, and keeping a journal.
Cycling
While you may think of cycling as primarily a cardio workout, it is also an excellent way to build muscle.
That's down to the resistance element of the sport.
When you work out against an opposing force, you build muscle. When you cycle, you work against the force of gravity, which builds your calves, quads, hamstrings, and glutes.
Get a Good Night's Sleep
The stats show that we are sleeping less and less!
It is widely known that there are many health benefits to getting a good night's sleep. However, it is surprising how few people actually get enough sleep.
Although more research is needed, current evidence suggests that sleep is vital to muscle growth.
If you're not getting enough sleep, your body isn't able to properly create new proteins. This leads to muscle loss and makes it harder for your muscles to recover from exercise.
There are many ways you can improve your sleep, such as wearing a sleep mask.
Improve Your Posture
One easy way to generate muscle growth is to sit up straight.
Having strong core muscles can help improve your posture.
If you have good posture, you will develop core strength, and if you have core strength, you will have good posture.
An article in the Journal of Physical Therapy Science showed that better posture leads to increased activity in abdominal muscles, helping you to build a stronger core.