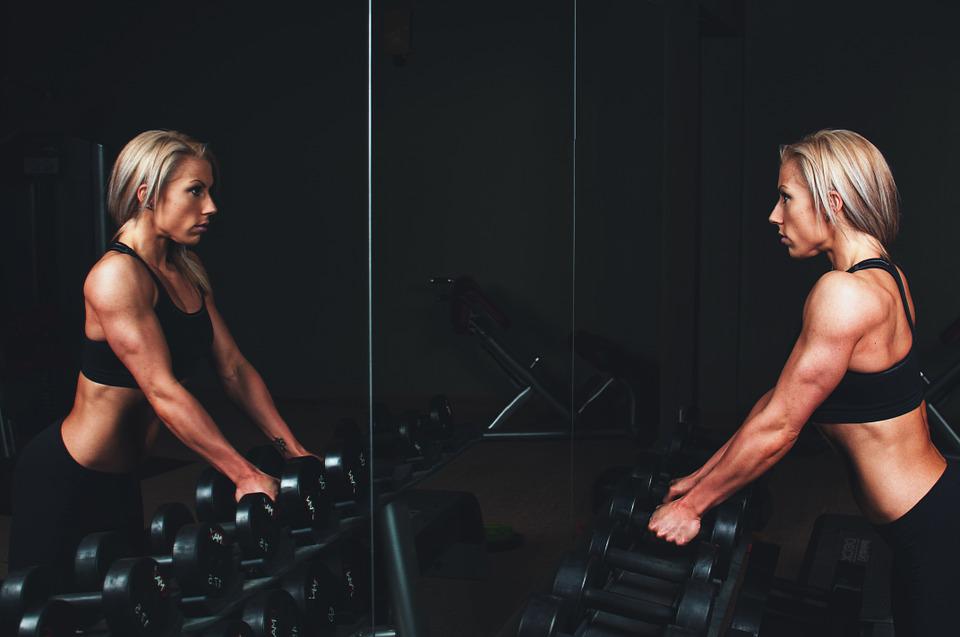 If you're not sure what you're doing, working out at the gym can be a great way to get in shape, but it can also be pretty intimidating. Here are a few must-know gym hacks and tips that will help you get better results:
Don't use a mixed grip with straps
Rambo, I know you're pumped full of caffeine, but please either learn how to use straps or change your grip–not both.
A mixed grip will offset the need for straps.
No one likes people who mix their grip with straps.
If you use straps correctly, there's no need to change your grip.
Progression requires tremendously more effort than maintenance
The person who has been "hardcore" training for 10 years and can only squat 135 may not be the best example to listen to.
Training causes disruptions to your body's equilibrium which forces it to adapt in order to survive. If you did not adapt, your body would become overwhelmed and you would not be able to function.
If you don't remove the source of stress and give yourself time to adjust, you will eventually reach a new equilibrium. However, if the stressor is too great and you don't allow yourself time to recover, you will enter into functional overreaching and eventually overtraining.
Your main goal should be to understand and implement the minimally effective dose (MED) of training-related stress that will gradually cause adaptation. If there is no stress, there is no chance for improvement. However, if there is too much stress, it can lead to negative consequences instead of positive ones.
Pass your plate, save your spine
Most people don't have access to a deadlift jack, so you need a cheap and effective alternative. Rather than paying $20 for a deadlift wedge, you can use a 2.5lb plate. Make sure the 2.5lb plate is wedged under the first plate on the bar, and nestle the 45lb plate in the hole of the 2.5lb plate.
Not only will doing this save energy for your next effort, it will also save money on your next bill. As the saying goes, work smarter, not harder.
No misses = no mal-adaptation
Boris Sheiko uses the same method with all of his Russian Olympic lifters.
Lifters need to be aware that their self-efficacy (how confident they feel in their ability to succeed) has a big impact on their training. If they miss a lift, their confidence in their ability to lift heavy weights goes down, and they start doubting themselves.
This creates a negative feedback loop, which makes it more likely to miss and can be very damaging in a competitive setting.
As Greg Everett from Catalyst Athletics has said before:
Although you may not feel like it, missing a shot is still practicing. You're continuing to practice the movement that leads to a miss, but more importantly, you're getting mentally used to the feeling of missing.
In addition to the psychological effects, missed lifts also pose a physical risk as heavier weights place greater stress on the body.
If you occasionally miss your target, that's understandable, but you shouldn't make a habit of it. Your goal during training should be to get as close to technical failure as possible, without actually failing. There's a difference, and if you want to keep training for a long time, you need to respect that difference.
Environment and lifestyle drive autonomics
If you're constantly listening to loud music from bands like Slayer and Disturbed, it may make you feel good, but it's not helping you recover from anything. In fact, it's actually the least efficient environment for recovery.
Keep an eye on your surroundings and be mindful of situations, songs, self-talk, and body language throughout the day. Respect both systems (sympathetic and parasympathetic) and understand how to change your environment and thoughts to improve one or the other.
Hormones > Numbers
You cannot improve your fitness or health by simply watching your calorie intake and relying on equations. This is why the IIFYM diet does not work in the long term. It may help you lose weight in the short term, but it will not improve your overall fitness or health.
There is a reason you will not see the Arizona Diamondbacks or Jacksonville Jaguars prescribing IIFYM for their players – nutritionists who understand the effects of nutrient density on long-term body composition and hormonal regulation.
Simplistically speaking, hormones control everything in your body.
What wakes you up in the morning? Hormones (cortisol).
What puts you to sleep at night? Hormones (melatonin).
What drives glucose storage? Hormones (insulin).
What increases muscle growth and retention? Hormones, such as testosterone.
This creates an upward spiral that bolsters recovery and muscle growth. The biggest difference between natural lifters and those using steroids is hormones. Higher levels of certain hormones allow steroid users to train harder and longer while also increasing muscle protein synthesis and making them more sensitive to cellular signals. This creates a positive feedback loop that leads to better recovery and more muscle growth.
The main purpose of training and nutrition is to influence hormones. If you understand how to influence hormones via lifestyle, supplementation, nutrition, and training, it will be easier to reach your goals.
Rather than just randomly trying different things and hoping something works, you'll be able to identify and fix your weakest point.
Keep your gym gear odor free
Another option is to hand wash your gear with a mild detergent and Hang it out to dry in the sun. There are a few things you can do to get rid of the lingering smell of sweat coming from your workout gear. One is to freeze your gear in a plastic bag for a few hours. The cold will help to kill the bacteria that cause the odor. Another option is to hand wash your gear with a mild detergent and hang it out to dry in the sun.
Here are some tips to keep your workout gear smelling fresh: -Wash your gear after each use -Put it in the sun for a few hours -Be sure to remove any sweat or dirt that could lead to bacteria growth
Workout while watching TV
You may be surprised to know that you can improve your physical fitness by watching TV. Although it may seem counterintuitive, there are several ways to do it.
To stay active while watching TV, try to increase the amount of time you spend being active and working out. Even though you're only moving around for a few minutes at a time, those minutes can add up throughout an hour-long TV show. And secondly, working out while watching TV can help make exercise feel less like work and more fun.
Who doesn't love finding ways to make their favorite activities more enjoyable? If you're looking for a way to make exercising more fun, try working out in front of the TV! You'll get a great workout while also catching up on your favorite show.
Freeze your water bottle
Many people bring a water bottle with them to the gym, but did you know that a frozen water bottle can actually be beneficial? A study suggests that consuming cold water while exercising can prevent overheating and improve the effectiveness of your activity. Most likely, this is because drinking cold water makes it simpler for your body to maintain a lower core temperature.
It was discovered that drinking six cups of cold water per day can increase your metabolism by approximately 50 calories per day. This is similar to how many calories you would burn by walking for 15 minutes and results in weight loss.
Track your progress
Monitoring your progress is essential to seeing results from your workout routine. Without tracking your progress, it can be difficult to tell if you're making any improvements. By recording your progress, you can see how much you've accomplished and how far you've come.
Progress tracking can help keep you motivated and on track to reaching your goals. It can also help you identify areas that need improvement. For instance, if you're not making as much progress in one area as you'd like, you can adjust your workouts accordingly.
The study found that people who exercised at online gyms were more likely to stick with their exercise plan than those who didn't have access to online resources. The study suggests that online accountability and healthy competition can help people stay motivated to exercise.
Stay away from sweaty clothes
You should avoid wearing sweaty clothes to the gym because it can increase your risk of skin infections. Bacteria thrive in humid environments, so wearing sweaty clothes can create an ideal breeding ground for them.
Sweating can irritate your skin and cause rashes. Additionally, if you wear sweaty clothes, you are more likely to develop body odor. Your clothing will also be more likely to stain, making you uncomfortable. Therefore, it is essential to wear breathable gym wear.
The purpose of these clothes is to draw sweat away from your body so you can stay dry and comfortable while working out. The fabrics used are also breathable so as to regulate your body temperature and prevent chafing and skin irritation.
Incorporate "Fillers"
There are many different ways to approach working out at the gym. Some believe in working as hard as possible in every session, while others think it's better to take a slower and steadier approach. However, it is possible to get the best of both worlds.
Including smaller exercises in between intense workouts can have several benefits. These benefits include improved stamina and endurance, reduced risk of injury, and improved mental focus and concentration.
If you want to improve your workouts, try adding some smaller exercises. You may be surprised at the results!
Include warm-ups
Most people believe that warming up is something that must be done in order to get to the better part of a workout. However, the truth is that warming up is actually a very important part of any workout. It helps to prepare your body for the physical activity that is to come and can help reduce the risk of injury.
If you want to make your exercise routine easier, it is best to warm up before doing any strenuous activities. According to studies, this will relax your muscles and make them less susceptible to injuries. When you warm up, your blood vessels will also dilate, making it easier for them to deliver oxygen-rich blood to your working muscles. The more blood a muscle receives, the more energy it can produce. Additionally, your body will be more effective at providing the energy that our muscles require and getting rid of the waste that our muscles produce.
There are a number of exercises you can do to warm up, such as squats, lunges, skipping rope, knee bends, ankle circles, and so on.
Your playlist can be your timer
The feeling of being in the zone at the gym only to have your workout cut short by the timer on the treadmill is unpleasant. What if there was a way to use your music to dictate the length of your workout? You can do this by making a playlist the same length as the amount of time you want to work out for. Start your workout and hit play. Let the music be your timer.
If you don't want to use a timer, you can use your playlist to keep track of your workout. Set different speeds for different songs to keep yourself from getting too comfortable. And when the last song ends, you'll know it's time to cool down. So next time you feel motivated to hit the gym, don't let anything get in your way. Use your playlist as your trainer, and let the beat push you to your goals.
Keep your gym bag in your car
A gym bag is an important item for anyone who likes to stay active. It gives you a place to store your gear and helps to keep your things organized. If you keep your gym bag in your car, you'll always have it with you when you need it.
Leaving your gym bag in your car means that you will never have an excuse to miss a workout. It is much easier than carrying it back and forth from your home every time you want to work out. If you have a busy schedule, being able to grab your bag and go can be a lifesaver.